Dogged defense frustrates Falcons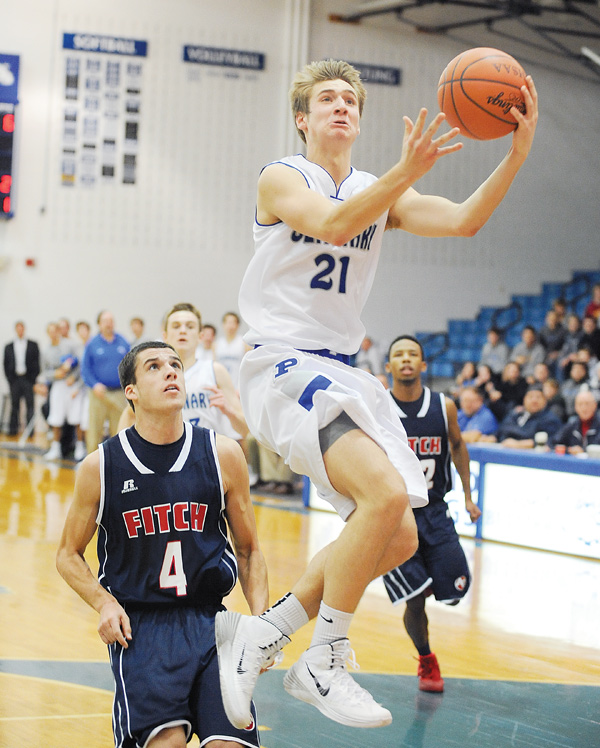 ---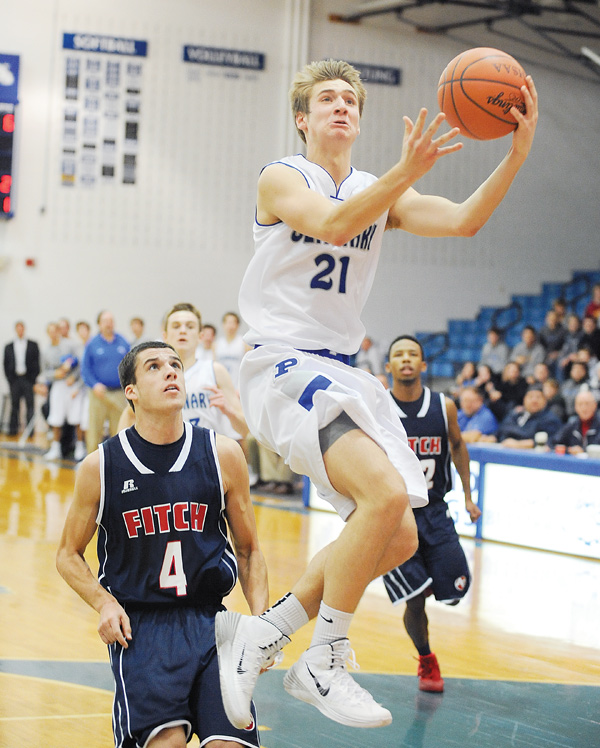 Photo
Poland's Kyle Dixon (21) goes in for a layup Tuesday night during the second quarter against visiting Austintown Fitch. The Bulldogs beat the Falcons, 65-48. Fitch's Gabriel Chepke (4) is at left and Quincy Higgins (22) at right.
POLAND
Entering the Fitch-Poland game Tuesday night, Niles was a common opponent of both.
Fitch beat Niles, 73-66, last Friday while Poland downed the Red Dragons, 66-45, on Dec. 6.
But Poland coach Ken Grisdale didn't put much stock in the comparison.
"I don't think you can draw too much from scouting opponents because Niles played us a lot differently than they played Fitch," Grisdale said.
But if there was a common thread, it was Poland's defense, as evidenced by its 65-48 victory over Fitch.
"Holding them to under 50 is awesome," Grisdale said after Tuesday's All-American Conference American Division outcome. "I think we've been holding people in the mid-40s, but to hold a team with Jessie Driver is an accomplishment. He's as good a guard as this area has. He can light it up."
Drive had 20 points for Fitch (3-1, 3-1), but Poland (4-1, 3-0) got 22 from Jacob Wolfe, 15 from Dan Black and 11 from George Chammas in bouncing back from a 63-46 loss to New Castle on Saturday.
"Some things got away from us against New Castle and we knew we had another major challenge with Fitch," Grisdale said. "We turned the ball over a little too much early [against Fitch] and I think we gave up too many offensive boards at times, but I think we got those things fixed."
Wolfe made 12 of 13 free throws, including 9 of 9 in the fourth quarter after Fitch pulled within 45-39.
What enabled him to become such a target for fouls?
"My teammates were setting screens to get me open and to get me the ball where needed," Wolfe said. "I was getting good looks, getting fouled and going to the line. Practicing free throws paid off in the fourth quarter."
Grisdale said that Wolfe was the Bulldogs' bait.
"We like to have the ball in his hands a lot even though we say he's a No. 4 man for us, a post," Grisdale said. "But he's like a point guard for us, too, so when teams are pressing us, a lot of our alignments are designed to get him the ball."
The 6-foot-4 Wolfe is just rounding back into shape after breaking his hand as Poland's quarterback against Hubbard.
"He had a cast for four weeks, then another two with a splint before he got it off Dec. 3 or so," Grisdale said. "Hitting those free throws down the stretch were huge for him."
Fitch pulled within 45-39 when Quincy Higgins made a free throw early in the fourth quarter, but Chammas found a clearing in the paint and dribbled directly to the basket to put Poland up, 47-39. After Wolfe grabbed Gabriel Chepke's second missed free throw, the Poland senior connected for two points on the other end of the floor. It was followed by consecutive baskets by Wolfe and Black for a 52-43 lead.
"When it got within six, that was too close," Wolfe said, "so we tightened up on defense to stretch the lead a little bit."
Fitch coach Brian Beany said missed shots were an obvious sore spot, but he wasn't happy with his defense, either.
"We had our looks tonight, but shot like 34 percent from the field," the third-year head coach said. "Against a good team, when you have a chance to put the ball in the basket, you've got to do that. We got look after look a lot of times, but just couldn't execute it and knock it down.
"It seemed like we'd come down and miss and they'd come down and score and we were playing catch-up for most of the game. When we got within six, we couldn't get over the hump.
"Again, it was opportunity squandered on our end and opportunity capitalized on their end. They made the most of their possessions."
"We didn't do a very good job containing the basketball [when on defense]. We kind of let them dribble-drive and then we'd have to help and they'd kick it [out to an open shooter]."