Chaney VPA students to perform Holiday Spectacular
---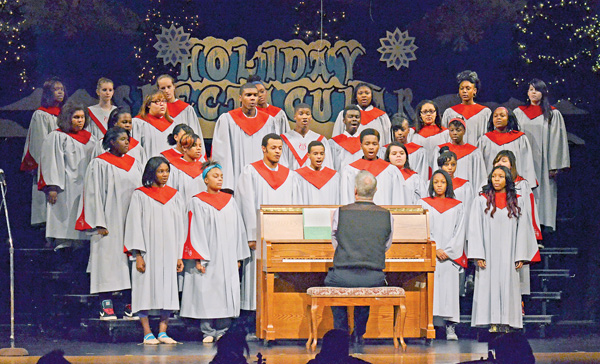 Photo
The choir at the Chaney Visual and Performing Arts School sings during dress rehearsal for the Holiday Spectacular public performance today at 6 p.m. Tickets are $4 for adults and $3 for students and are available at the door. The choir and other VPA students also will perform at 12:30 p.m. today and Friday for the student body.
By Denise Dick
YOUNGSTOWN
Chaney Visual and Performing Arts sixth-grader Dalton Narog, 12, feels free when he's dancing.
Junior Teresa Crum, 16, feels creative; and the applied repetition that freshman Robert Chalfant, 14, used to perfect the music he learns on his bass guitar for the school orchestra helps him use those same skills to remember difficult concepts in class.
All of those students and their fellow VPA students at Chaney will be on display in the Holiday Spectacular performance today. A performance for the student body is set for 12:30 with a public performance at 6 p.m. The cost is $4 for adults and $3 for students, and tickets are available at the door. A second performance for the student body is planned for 12:30 p.m. Friday.
Tracy Schuler Vivo, the school's VPA coordinator, said this marks one of three all-VPA performances at the school throughout the year. The others are in February for Black History Month and in the spring. All of the school's 300-plus VPA students are participating — from visual-arts students whose work is displayed in the school lobby outside the auditorium, to performers, to theater technical students who worked on the set designs.
Teresa started at Chaney specializing in theater but soon discovered her aptitude and love for dance. She likes ballet and modern dance.
"Modern is more grounded," she said. "Ballet is more poised, but in modern, it's more grounded. You get to move the way you want and be creative with your movements and your body."
Dalton discovered his love of dance kind of by accident.
"I was wearing ski boots and kind of flipped over by accident," he said.
Now he flips across the Chaney Auditorium stage.
He enjoys hip-hop dance outside of school, but focuses on ballet in school.
"I feel free," he said.
Robert starting playing bass guitar about three years ago, but today's program is the first time the school's band and orchestra have performed together.
They're playing "The Polar Express" and "The Nutcracker March."
Robert hopes that people who see the shows come away with an understanding of "how good Chaney VPA is."
Junior LaDwan Hester, 17, plays saxophone and draws at the school, but he spent part of Tuesday's dress rehearsal behind the light board.
"I try to be a man of many talents," he said.
LaDwan said he learned the craft by trial and error but points out that it was the trial and error of other people.
"I learned by watching other people mess up," he joked. Vivo said LaDwan picked it up fast.
And, there's an artistry to it.
"You just follow the cues," LaDwan explained. "If a certain dancer raises their arms, you light up the area. It almost gets euphoric at a certain point."