Perry lifts YSU past Bethune-Cookman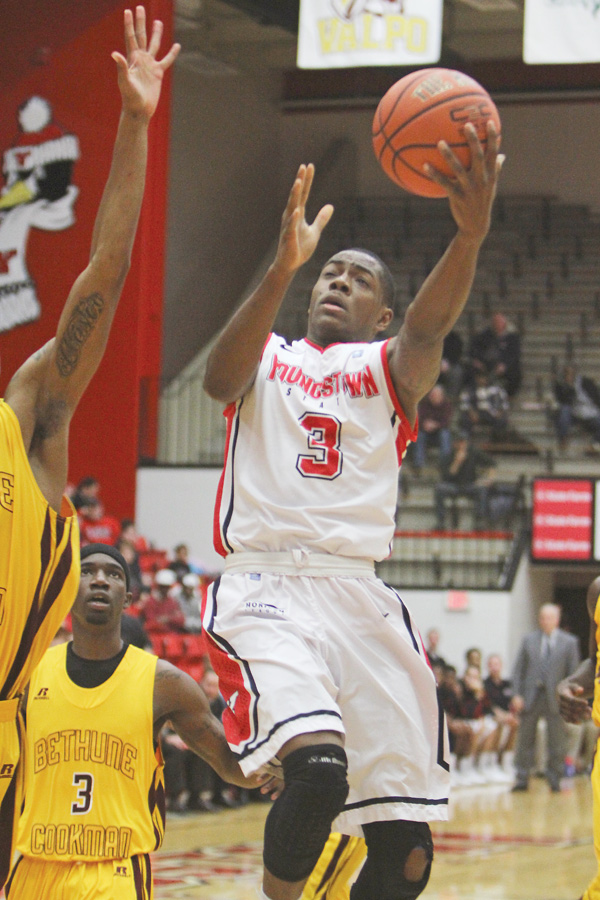 ---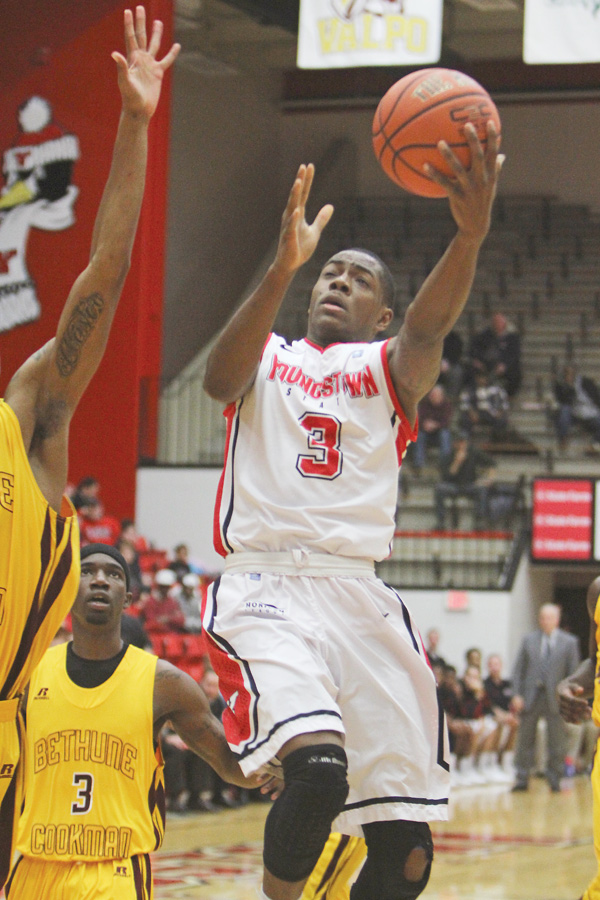 Photo
Youngstown State's Kendrick Perry goes in for a layup during a game against Bethune-Cookman on Tuesday at Beeghly Center.
By Joe Scalzo
YOUNGSTOWN
On a night when it didn't always play well, the Youngstown State men's basketball team kept playing hard.
Against Bethune-Cookman, that was enough.
"I thought we competed well, in terms of good intensity," Penguins coach Jerry Slocum said following a 71-59 win at Beeghly Center. "I don't think that means that we played well, but I thought that we competed well."
Kendrick Perry scored 19 points to lead the Penguins (8-5), who improved to 8-0 when holding opponents under 75 points.
Ryan Weber added 16 points and Bobby Hain had 14 points and nine rebounds.
YSU entered the game having lost four of its last five.
"We went through a little stretch where we had some tough games and we came out with more losses than we expected," Weber said. "It feels good to get back on track and get everybody going."
Added Slocum, "You go through peaks and valleys through the course of a basketball season and we're trying to fight our way out of a little bit of a valley right now."
The Penguins held Bethune-Cookman to 37.5 percent shooting in the first half to build a 31-22 halftime lead.
The Penguins led by double digits for the final 19 minutes of the second half, extending the lead to 21 points with 3:50 left.
Mikel Trapp scored 18 points with seven rebounds and Malik Jackson had 16 points and five rebounds for Bethune-Cookman (2-12), which is coached by former Farrell High standout Gravelle Craig. The Wildcats have lost 10 straight and fell to 0-10 on the road.
Youngstown State's defense has been an issue in recent weeks — the Penguins are giving up an average of 87 points in their five losses — but it was solid on Tuesday, holding the Wildcats to 44 percent shooting from the field and 38 percent from the 3-point line. Those numbers aren't quite up to Slocum's standard — he wants opponents to shoot 40 percent from the field and 35 percent from beyond the arc — but with the new emphasis on calling hand-checks, he knows it's gotten tougher to stop teams.
"I hate to keep on beating this drum, but the college game is different," Slocum said. "With the officiating, you watch as the year goes by, you're going to see the 3-point attempts go down and everybody now has a game plan of drive it, drive it, drive it, drive it, drive it.
"Everybody's probing, everybody's trying to get it to the basket. That's where the game has changed. Field goal percentages are up, why? Because everybody's driving instead of settling."
The Penguins are also feeling the effects of losing Damian Eargle, last year's Horizon League defensive player of the year who graduated as YSU's — and the league's — career leader in blocked shots. But while some of the Wildcats' offensive struggles were due to their deliberate pace, it was also due to YSU's defense, Slocum said.
"I thought we did a better job tonight of guarding the ball," he said. "I thought we were better in terms of our gap defense, I thought that we helped a little bit better tonight. And again, any time you're giving up just 59 points, I think that's a pretty solid defensive effort."