Remembering, healing are focus of Longest Night Service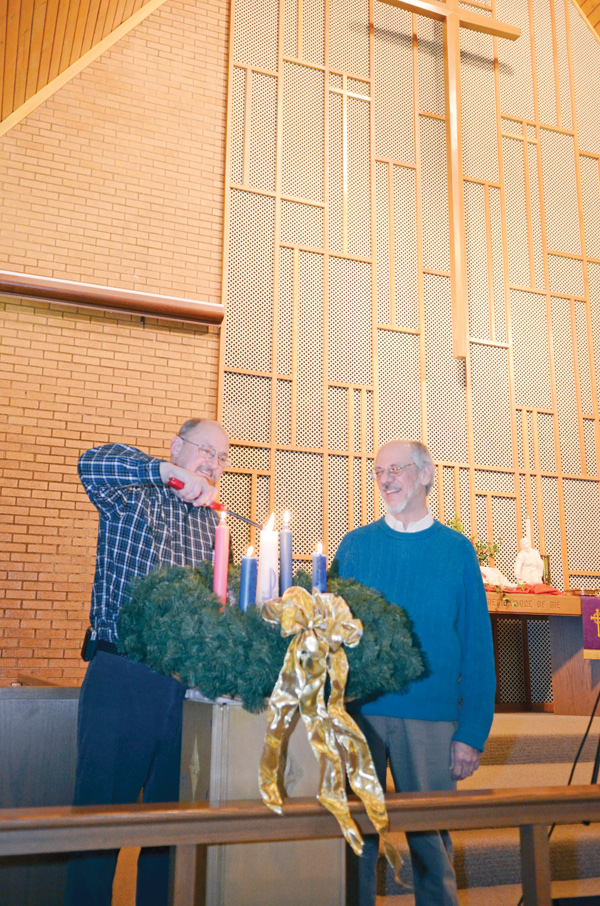 ---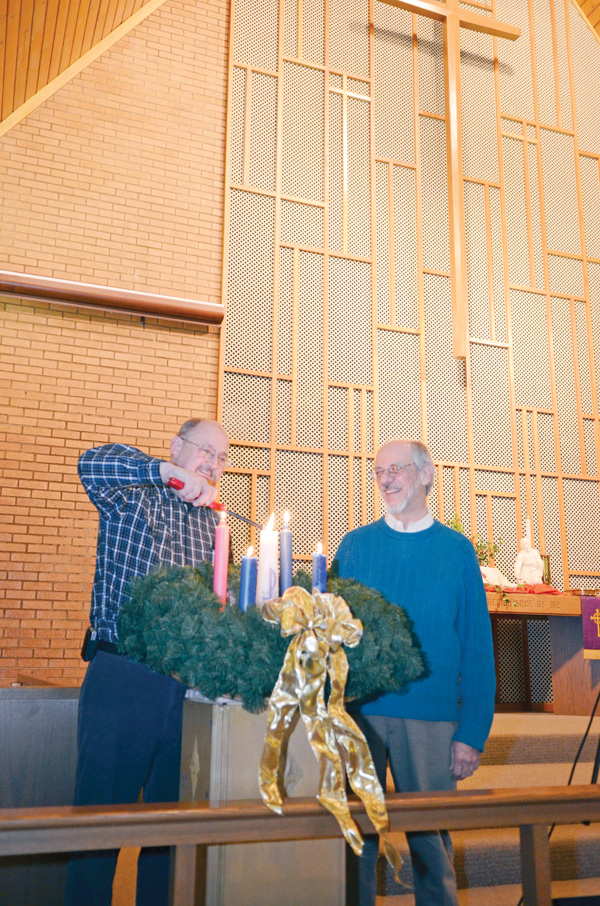 Photo
The Rev. Glenn Hamilton, left, pastor of Grace United Methodist Church in Warren, lights the Christ candle in the Advent wreath as he will do during a Longest Night Service planned at 7 p.m. Wednesday at his church. Watching is the Rev. Dr. Jim Ellison, pastor of Tod Avenue United Methodist Church in Warren, who will be among Methodist clergy joining together for the service of remembering and healing.
By LINDA M. LINONIS
WARREN
If everyone could experience Christmas as commercials and many seasonal movies portray it, it would be all celebration, joy, harmony and being surprised by the secretly desired gift.
But reality for some people is often in stark contrast to Christmas-card images.
A Longest Night Service will address the sadness, loneliness and unpleasant memories that some people experience at this time of year.
Pastor Rick Oaks and the Rev. Kyle Tennant, Connections pastor, of First United Methodist Church; the Rev. Glenn Hamilton of Grace United Methodist Church; and the Rev. Dr. Jim Ellison of Tod Avenue United Methodist churches will conduct the service at 7 p.m. Wednesday at Grace UMC, 1725 Drexel NW.
Pastor Ellison said his church conducted a similar service last year, and 70 people attended. "The intent of the service is to help people who may have unpleasant Christmas memories," he said.
Those memories or feelings are caused by the death of a loved one, loss of job, a diminished family circle or a falling out with one's spouse, relative or friend. "We're haunted by these memories," Pastor Ellison said.
He said the Longest Night Service, one of remembering and healing, takes place near the winter solstice, the longest night of the year, which is Saturday. "The tie-in is the depression people sometimes feel and more darkness than light at this time," he said.
Pastor Ellison said the hourlong service will include "quiet music" that will set the tone for the "healing experience of remembering what's important to us."
Pastors Hamilton and Ellison agreed there is a real need for the service. "It's a gentle touch to help people try to have healing before Christmas," Pastor Ellison said.
Music will reflect various emotions people have.
"In the Bleak Midwinter," Pastor Ellison said, is a hopeful hymn. "No Need to Argue" touches on regret of lost or broken relationships. "Light One Candle" conveys courage and grace. "That relates to the idea that into the darkness comes the light of Christ," Pastor Ellison said.
Scripture readings and prayers also will be part of the service, all relating to the Christmas story and Christ's birth. The celebratory hymn, "O Little Town of Bethelehem," will be sung.
"People are looking for healing," Pastor Hamilton said. "They want to find a way to ease the hurt. This provides an opportunity."
Pastor Tennant said the service "puts into words what people feel." He continued that it also is a "safe" way to process those feelings.
Candle lighting will play a major role in the service.
The Advent candles and Christ candle will be lighted, each reflecting on a different feeling and idea.
Among responses will be "Let us remember that dawn defeats darkness."
Those participating in the service will be invited to light a candle or two to "remember a loved one, to grieve a loss or to honor a relationship."
"The sanctuary will be aglow," Pastor Ellison said, adding he hoped that "the glow" would stay with people and be a source of strength.