Natalie Plescia, Simon Arias will wed in August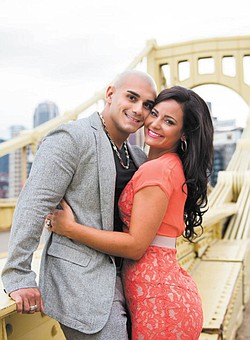 Photo
Simon A. Arias and Natalie L. Plescia
Natalie L. Plescia of Pittsburgh and Simon Anthony Arias III of Campbell are engaged and planning an Aug. 16 wedding at St. Paul Cathedral in Pittsburgh.
A reception will follow at the Omni William Penn Hotel in Pittsburgh.
The bride-elect's parents are Roberta and Fred Russo of Apollo, Pa. Chrissy and Greg VanSuch of Campbell are the prospective groom's parents.
Miss Plescia earned a bachelor's degree in business and communications at West Virginia University.
Her fiancé earned a bachelor's degree in business at Mercyhurst College. He is the president and chief operator of nine franchise life insurance offices called Arias Agencies, owned by American Income Life Insurance Company.