Family members gather to celebrate Hrinaks' 72nd wedding anniversary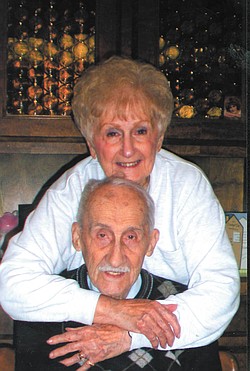 Photo
STRUTHERS
On Nov. 28, Thanksgiving Day, John and Lucille Hrinak of Struthers celebrated their 72nd wedding anniversary and his 96th birthday with a family dinner at their home.
The Hrinaks have two children, Barbara Orenic of Boardman and Jack (Sandi) Hrinak of Medina, Ohio. They also have two grandchildren, Michele of Macedonia and Christine of Atlanta, Ga., and three great-grandchildren, Nicolette of Macedonia and Brittany of Atlanta. Their great-grandson, Brandon, is deceased.
Mrs. Hrinak, the former Lucille Marinelli, retired in 1975 from Almart Department Store in Boardman, where she was a receiving clerk. She is a member of Holy Family Seniors.
Mr. Hrinak retired in 1983 from Master Addresser Co., of Minneapolis, where he worked as a factory representative. He is a member of VFW Post 3538, and he served in the Army as a master sergeant with the 18th Airborne Corps in the European Theater during World War II.
The couple were married Nov. 20, 1941, at St. Dominic Church in Youngstown. They both are members of Christ Our Savior Parish-St. Nicholas Church, and both belong to AARP.