Students say 'yes' to drug free life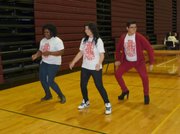 ---
By ELISE McKEOWN SKOLNICK
At Boardman High School's first "Yes Fest" on Nov. 26, students were encouraged to say yes to volunteering and activities rather than to drugs.
"Today is about exploring the negative influences that surround us, as well as the multitude of positive opportunities that also exist in our schools and communities," principal Jared Cardillo told the students.
The students heard first-hand experiences of losing a loved one to drugs.
"Nothing good can come from a choice to experiment with drugs," Angelo Martino said.
He described finding his son dead from an overdose, and encouraged the students to find positive means of coping with stressful times, rather than turning to drugs.
"We only get one shot at life on this Earth," he said.
Anna Howells also lost a son to drugs. She detailed his, and by extension her, 15-year battle with drugs.
"For almost 15 years, my son was dying a slow death," she said. "This disease destroys you physically and mentally. All the dreams Dennis had for his life were taken from him by heroin."
And, she said, drug addiction impacts those who love the addict, as well.
The students also heard from David Kahout, a motivational speaker.
Following the assembly portion of the event, students had an opportunity to speak with representatives of school clubs and area volunteer and health agencies, such as the American Cancer Society, Hospice of the Valley, the yearbook club and student council. The children were able to learn about help available for them in the community, and opportunities to become involved in a positive way.
The event was good, said Rawa Alassaf, a senior.
"I learned a lot of things," she said. "It does really make me think, make me avoid doing drugs, and think about positive things."
After checking out the vendor offerings, Alassaf said she was interested in science club.
Students who signed a pledge committing to become part of something positive received a sticker from SADD and a T-shirt courtesy of Chick-fil-A.
More like this from vindy.com