POW tells story of captivity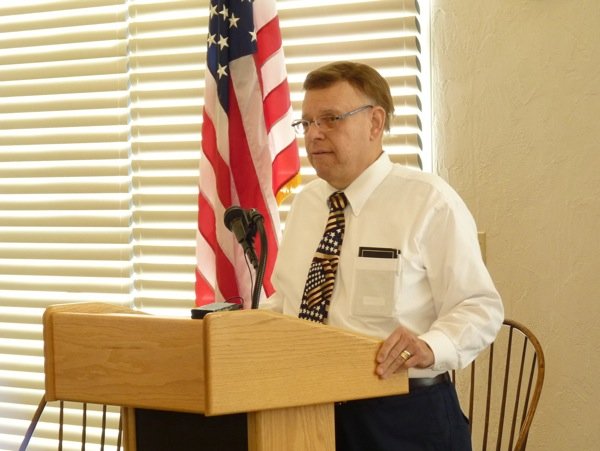 ---
By ELISE McKEOWN SKOLNICK
Daniel King was kept captive by the Germans more than 65 years ago, but he still remembers the details of his imprisonment. He shared his memories, and the story of his plane going down, with members of the Friends of Austintown library Nov. 25.
King, who was a born in a farmhouse in North Jackson in 1923, was a first Lieutenant in the 8th Army Air Corp., which later became the United States Air Force. He flew a P51 Mustang as a fighter pilot. His main duty was to serve as an escort on bombing runs to and from targets over enemy territory.
King flew 29 missions. On the 30th, his plane caught fire.
"I could smell my eyebrows burning," he said.
He tried to bail out, but had trouble.
"I have no idea what happened after that," he said. "I was falling face down in the sky."
As his parachute opened, he saw his airplane blow up below him.
He landed on German soil. A farmer headed toward him with a manure fork but was scared off by another plane. Small children with wooden shoes were nearby. From his pockets, he shared candy and gum with the children. He saw another farmer plowing with a horse and cow hooked together.
"How all these things stay in my mind, I'll never know," he said.
Eventually, a constable detained him and he was transported to a POW camp. He remembers bits and pieces of that 15 day trip. At the camp, he was assigned to the top bunk in a stack of three, in a room with 20 other prisoners. He wasn't popular – he later discovered the others were convinced he was a German plant – but he survived.
Following his talk, the group presented King with an American flag that flew over the White House in his honor.