Poland varsity wrestling splits tri-match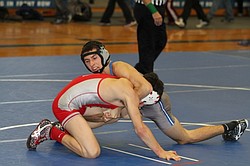 Photo
Neighbors | Submitted.Dave Esarco defeated his opponent from Dover 8-4 at a recent tri-match at Poland High School.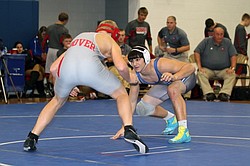 Photo
Neighbors | Submitted.Mike Audi is shown taking on an opponent from Dover, who Audi pinned in 45 seconds in the first period of the match.
Poland defeated Chippewa High School 41-33 with wins by pin coming from Anthony Morucci, Bob Murcko, Anthony Audi and Michael Audi. There were two wins by decision coming from Bruno Spottleson and Dave Esarco. Poland also registered match points by forfeits going to Dante Ginnetti and Liborio Ricottilli.
The team dropped its second match against Dover by one point .The Bulldogs scored against Dover with five of their wrestlers getting pins (Dante Ginnetti, Bob Murcko, Anthony Audi, Michael Audi and Trey Ellis) along with a major decision by Bruno Spottleson and a decision by Dave Esarco.
Going undefeated on the day for the bulldogs were Dante Ginnetti, Dave Esarco, Bruno Spottleson, Bob Murcko, Anthony Audi and Mike Audi with (The Audi Brothers and Bob Murcko winning both of their matches by pin).
The Seminary wrestlers will next compete at Canfield High School Dec. 18 at 7 p.m.