Local WWII veteran to speak on Pearl Harbor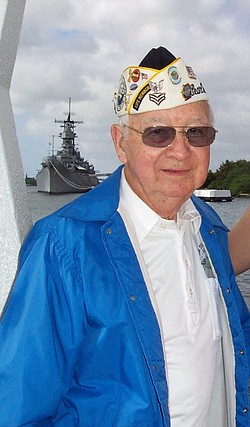 Photo
Neighbors | Submitted Local veteran, Bob Bishop, standing on the Arizona Memorial.
Local veteran, Robert (Bob) Bishop, will be the speaker at the Mahoning Valley World War II Heritage Association meeting Dec. 16. The group will meet at A La Carte Catering in Canfield at 6:30 p.m., with a dinner preceding the speaker.
Bishop, now 92-years-old, is a long term member of the association and has an inspiring message to offer on the 72nd anniversary of Pearl Harbor.
Bishop was born and raised in Austintown and graduated from Fitch High School in 1939. After graduation, two of Bishop's high school friends convinced him to join the Navy. Bishop enlisted on Sept. 16, 1940 and was assigned to the Naval Operating Base at Norfolk, Va.
After graduating from boot camp, Bishop joined the crew of the battlewagon USS Tennessee as a radio man. He was aboard the ship when it's home base was shifted from Long Beach, Calif. to Pearl Harbor. The ship's berth was to be his home for the next 4 1/2 years.
Bishop will tell the story of his experience and the fate of the USS Tennessee. Joining Bishop for a joint presentation will be his son-in-law, John Blackman.
For reservations, contact David Frank at Frank.1953@hotmail.com, 330-757-0515 or 330-533-6737.