Local business man joins Rotary Club

Photo
Neighbors | Submitted.Rotary President Mark Cole, (left), with Ed Kalaher, receiving a book to be donated to the Austintown Elementary School library in honor of his speech to the club.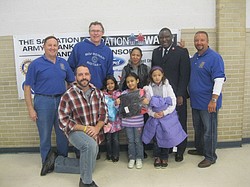 Photo
Neighbors | Submitted.Pictured are Ed Kalaher; (kneeling); with Gary Reel; (left); Jay Summers; (Boardman Rotary); Maj. Elijah Kahn; Mark Cole and the family receiving coats from Operation Warm Dec. 7
Ed Kalaher, local businessman and new Rotarian, spoke to the Rotary Club of Austintown recently about the Window Depot, a local franchise of a national company. Kalaher, with another new member, Rich Begalla, market windows in the area from their Canfield office.
Kalaher presented a video about his life and how he came to Rotary. He mentioned a basic human need is happiness and that gratitude and giving are two components of happiness. Kalaher sees Rotary as a way to help many people at local, national and international levels and he thinks getting involved is the way to gain the most. Kalaher was one of the members of Rotary who recently helped the Salvation Army of Youngstown in Operation Warm, which distributed hundreds of coats to children in need Dec. 7.
Some Austintown Rotarians will man the kettle at the Austintown Post Office Dec. 14, while others will help in the Salvation Army's toy shop from now until Dec. 20.