Wildcats scratch out AAC road victory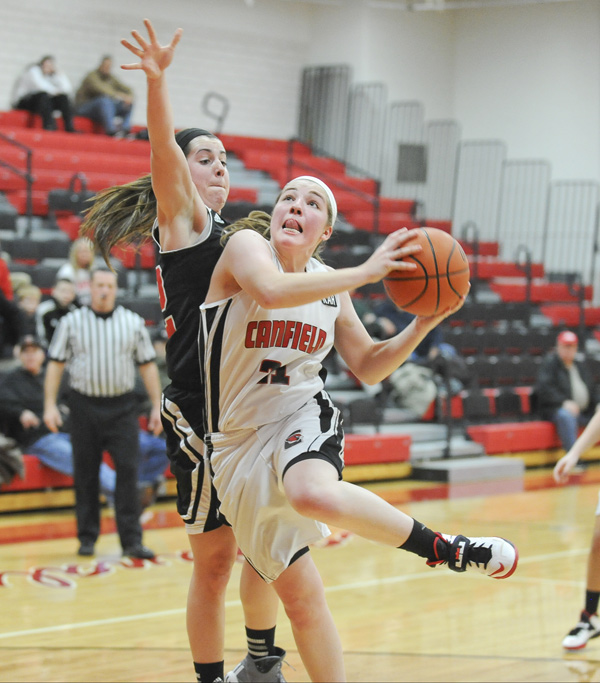 ---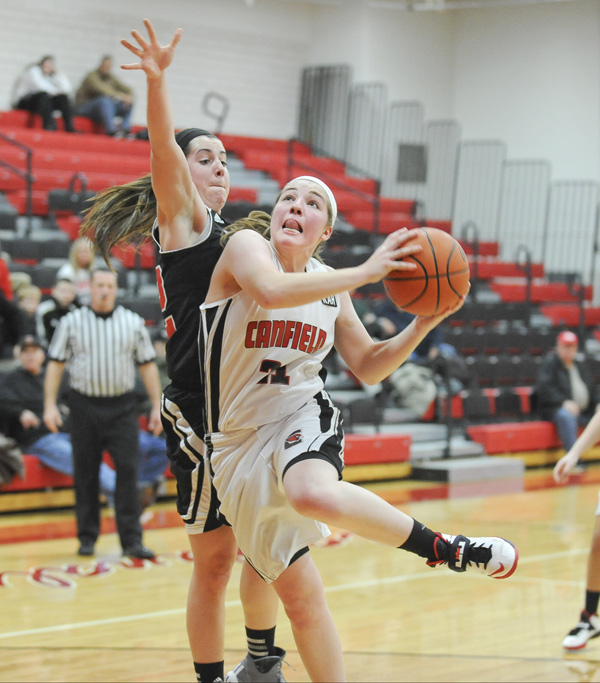 Photo
Canfield's Rachel Tinkey (21) drives past Struthers' Brittaney Zupko on her way to the basket Thursday night. The visiting Wildcats beat the Cardinals, 60-57, in an All-American Conference, American Division game.
By Joe Catullo Jr.
CANFIELD
Statistically, Struthers and Canfield were almost identical Thursday night in every category.
There was one major difference between the teams, something that can never be written down as a stat. It's a characteristic that Canfield coach Patrick Pavlansky noticed right from the beginning.
"Aggressiveness," he said.
The Wildcats used that aggressiveness early in the fourth quarter, which led to a 60-57 victory.
"It was a battle of the boards," Struthers' Brittaney Zupko said. "They never gave up, and we never gave up."
Struthers (3-1, 3-0 All-American Conference American Division) led by two points heading into the fourth quarter when its offense began an 11-0 scoring run.
"I thought we were going to win the game easily," Struthers coach John Grandy said. "Things got wacky."
The Cardinals (3-4, 2-2) then went on a 7-0 run shortly after and made it a game again. Leading 51-47 with 4:08 remaining in the game, the Wildcats used their defense while their offense struggled to never lose the advantage.
"That was number one," Grandy said. "I think it started on the defensive end, and everything we did from there was icing on the cake."
Another factor was slowing down Rachel Tinkey a tad. The junior finished with 32 points (19 in the first quarter) and 15 rebounds, both game highs. In the fourth quarter, though, she missed a couple of layups in transition.
"I could come up with something to say I'm a great coach, but we just stayed with the same people," Grandy said. "She's a good player, and you just kind of hope that she misses those shots."
Along with the late fourth-quarter push, Tinkey helped erase a seven-point deficit late in the second quarter. The Cardinals went on a 12-1 scoring run, and she scored eight points during that stretch.
One player Canfield missed was Jamie Giambattista. She left Monday's game against Howland with a torn meniscus. There is no specific timetable for her return.
"Not having that eighth person in Jamie makes it tough," Pavlansky said. "But our kids kept fighting, and they'll play better."
For Struthers, Zupko, the only returning post player from last year, paced the team with 15 points (seven free throws) and 13 rebounds. McKenna Shives scored a team-high 16 points and nailed three 3-point field goals.
Ashleigh Ryan finished behind her with 11 points and a game-high six assists. Ryan scored eight points in the second half, including six in the fourth quarter.
The Wildcats' first four shots of the game were 3-pointers. They finished with seven made in 19 attempts, and that's when the inside game opened.
"Once we started running our offense, our shots started falling," Zupko said. "Then the game started going our way."
The only two times Struthers did not play more aggressiveness than the Cardinals were during Canfield's scoring runs. That's exactly what Grandy looks for each and every game.
"Our kids have a lot of heart, and I would have said that today if we would have won or lost," he said. "As long as they're working hard, I don't care what the scoreboard says."
More like this from vindy.com