Vinegars, pillows or bouquets can make an... Herbal Christmas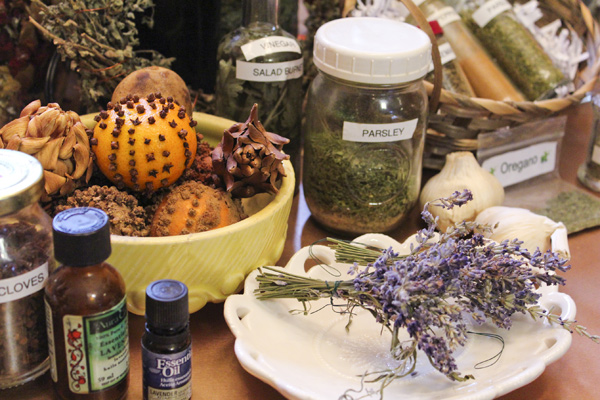 ---
By Barb Delisio
OSU master gardener volunteer
Herbal Christmas gifts are magical, and giving is more fun when you can say, "I made it for you from things from my garden."
They can be edible or non-edible. Herbal vinegars are probably the easiest edible to prepare and give. Most are made with fresh herbs, white, champagne or rice vinegar, sometimes a garlic clove, and a clean glass bottle or jar with a tight-fitting lid.
For most of us it's a little late for fresh herbs, so I'll give you a recipe for raspberry vinegar. Raspberries are now in all the grocery stores. You need 1 Ω c. white vinegar, a bottle with a tight-fitting lid, 1 c. fresh raspberries and Ω c. white sugar.
Combine the vinegar and sugar in a nonaluminum 2-quart sauce pan. Heat, stirring occasionally, but do not boil (boiled vinegar becomes cloudy). Pour into a glass bowl and mash in raspberries. Using a funnel, pour vinegar-raspberry mixture into the glass bottle. Let vinegar cool. Put on lid.
Raspberry vinegar can be used after a week. It can be stored in the refrigerator for six months. This is a perfect gift to give since raspberry vinaigrette is such a hot item now. For step-by-step instructions, see this factsheet: http://go.osu.edu/herbalvinegars.
Dried cooking herbs in little jars make great gifts. Hanging bunches of herbs in a brown bag, stem sides up, in the house will give you clean, dry herbs to use in cooking. Total drying will take about a week.
For quick drying, use the microwave. Wrap the stems and leaves in a paper towel and set the microwave on high for one minute, longer if not dry. Keep a close watch on the drying herbs because if they get too dry they can begin to burn.
Before placing the herbs in a glass jar with a tightly fitting lid, make sure they are dry and crackly.
Any moisture will cause mold. Dried herbs can be pinned to a straw wreath, put in small cheesecloth bags for bouquet garnish, or just packed individually into little jars for use in cooking. A little basket filled with a napkin and three or four jars of dried herbs makes a nice hostess gift.
During the growing season I harvest all summer long. I put the dried herbs in large canning jars and store them for when I want to use them for cooking or to fill little jars to give away; I have an abundance to share. Lots of recipes use herbs of some sort fresh or dried.
Dried and fresh herbs can be used in all kinds of decorating and comfort ways. Popular lavender can be used for herb pillows to give you a restful sleep or little sachets tucked into lingerie drawers, bath salts and bath oils to help you relax in the tub, and just in bunches tied with a ribbon to scent an area.
Two books invaluable to an herb grower is "Herbal Fare" by the Holborn Herb Guild (local) and any book by Adelma Grenier Simmons.
Decide now what projects you want to do next year and start making a list of all the herbs you have to grow in the spring.