Mickey & pals to cheer Youngstown toddler after cancer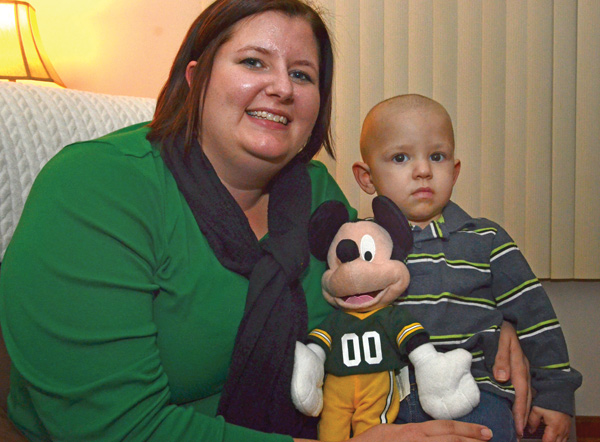 ---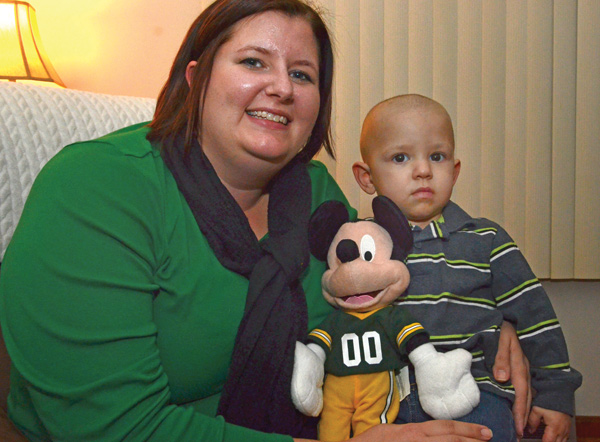 Photo
Sixteen-month-old Dalton Bodnar relaxes with his mother, Dana Bodnar, and his Mickey Mouse toy. Dalton, who has been declared cancer-free after three rounds of chemotherapy, will be the guest of honor with VIP seats at tonight's opening performance of "Disney on Ice" at the Covelli Centre.
By GUY D'ASTOLFO
dastolfo@vindy.com
YOUNGSTOWN
A West Side toddler who has just been through a rough patch will get some cheering up tonight, courtesy of Mickey Mouse and a host of other Disney characters.
Dalton Bodnar is only 16 months old, but he has already battled cancer. Just after his birthday in July, Dalton was diagnosed with testicular cancer and spent the next three months undergoing chemotherapy.
He is now cancer-free, said his mother, Dana Bodnar.
To celebrate, Disney is giving the Bodnar family what it's calling a Magical Night Out. Mother, son and dad Michael Bodnar will be picked up by a limousine later today and taken to the MVR restaurant for dinner, then to Covelli Centre to see the opening-night performance of "Disney On Ice Celebrates 100 Years of Magic," where they will have VIP tickets.
Dalton and his parents also will get to meet the Disney characters before the show.
Credit for the fun night goes to Dalton's aunt Kerry Sierra, and cousins Ashley, Amber and Abby. She saw a posting on Covelli Centre's Facebook page that Disney was looking to treat one local youngster and his family, so she entered Dalton's name.
"She never told us that she did it, in case we didn't win," said Dalton's mother, Dana. The Sierra family also gets to take part in the Magical Night.
Because of the chemotherapy, Dalton spent most of the summer and fall in the house and missed out on a lot of fun, including trick-or-treating.
Tonight's Disney show is a much-deserved reward for him, said Dana, who also is very excited.
"He is a regular boy, and he will finally be able to get out of the house and be with other kids," she said.
Like most youngsters, Dalton is enamored of Disney characters.
"Dalton watches the Disney Channel a lot," she said. "He loves 'Mickey Mouse Clubhouse' and 'The Lion King' ... anything that has a lot of singing and dancing."
Although he's still very young, Dalton seems to know that something fun is coming his way. "We ask him if he's excited, and he gives a big smile," said Dana. "He knows we're excited and he should be too, but he won't get it until he's there and every moment is so magical for him."
When she was first contacted by Disney, Dana was surprised to learn that a Gold Cross limousine will pick up the family but immediately thought of a practical concern that might not be so obvious to most.
"I wondered if the limo can accommodate his car seat," she said. "They said it would."