Penny Wells and Ernie Brown discuss Simeon Booker
---
VTR - Penny Wells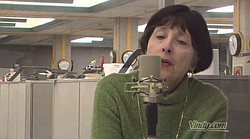 Video Set
The Valley will welcome home Simeon Booker at YSU's fall commencement on Dec. 15. His journalism work for 65 years helped pave the way for major Civil Rights changes. Vindy Editor Todd Franko led a discussion on Simeon with regional editor Ernie Brown and Penny Wells at 11 a.m.
Go to vindy.com/radio to listen to the show live, or vindy.com/mobile/vindy-radio to listen from your smartphone.
Click here to listen to the show. Follow us @VindyRadio for live tweets of the show and more.
Vindy Talk Radio Studio: 330-333-4454