Tressel & Clarett | Relationship of 'Youngstown Boys' survives tough times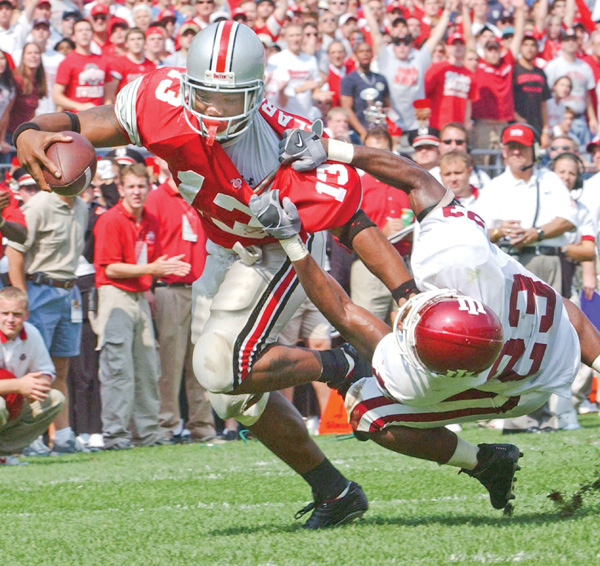 ---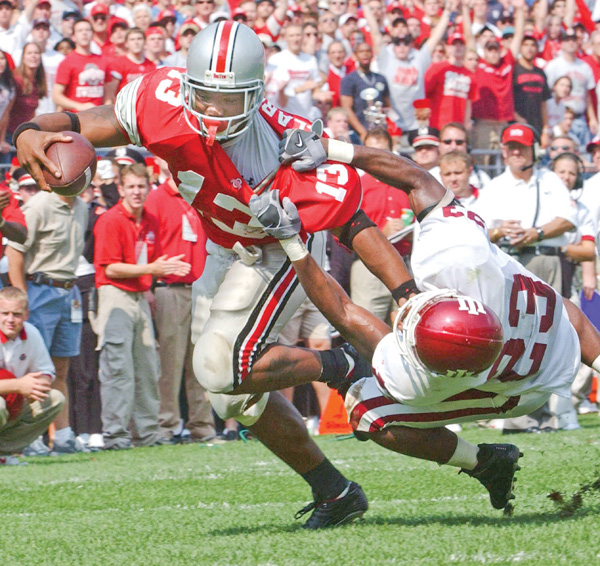 Photo
Ohio State tailback Maurice Clarett (13) fends off a tackle attempt by Indiana free safety A.C. Carter (23) during a game at Ohio Stadium. Clarett, a former Warren Harding High School standout, helped the Buckeyes win the national championship that season. It ended up being his only season at Ohio State.
To Forgive is Divine

Video
Jim Tressel is one loyal guy when it comes to his players, despite the scandals that are linked with his coaching career.
Former coach and former player are forever linked
By Ryan Buck
Coaching is a numbers game.
Successful coaches are ultimately judged, fairly or not, by games won.
Jim Tressel's career record as a college football head coach spanning 25 seasons is 229-79-2.
Four Division I-AA national championships at Youngstown State and a Bowl Championship Series crown at Ohio State stand out.
When Tressel's legacy is ultimately decided, however, the only number that will matter to many is simply ... two.
Tressel and his former star running back Maurice Clarett are inevitably linked. After spending formative years in Youngstown, the two forged a relationship that has stood the tests of time, success, heart break and reconciliation.
It is the subject of "Youngstown Boys," a documentary set to premiere Saturday on ESPN after the Heisman Trophy ceremony.
Their "dual narrative," as promoted by the ESPN producers of their "30 for 30" series, casts Tressel as the role model for a talented, but troubled Clarett in a star-crossed relationship.
When Clarett and the film's directors, Jeff and Michael Zimbalist, approached Tressel to be a part of the project, he agreed.
"I thought when Maurice and Jeff and Mike came to me that I was going to be giving them some sidebar discussion," Tressel said during a conference call Tuesday. "Little did I know the dual approach would take shape."
The Zimbalists had originally thought the film's storyline, pitched to "30 for 30" directors by Clarett himself, would be "a case study" with looks into Clarett's emotional and psychological journey.
A three-and-a-half hour sit-down with Tressel, preceded by almost 15 hours of interviews with Clarett, convinced the Zimbalists that Tressel's fatherly influence and his own abiding values — to which Clarett took — were almost as much a part of the "narrative" as their original idea.
"I'm humbled and flattered that they would do that," Tressel said. "When asked about being able to take part and express what all of what Maurice has been through, it was hoping all along that Maurice can be anything that he's willing to be. My hope was that he would just do that."
After seeing his relationship with his own father deteriorate and become non-existent, Clarett said he often found balance in his life under the guidance of "strong male role models."
Tressel saw him through his initial brush with stardom as the starting running back on Ohio State's national championship team of 2002.
When his celebrity became too great and his inner demons overtook a life buoyed by the structure of Tressel's program in Columbus, Clarett's life spiraled out of control.
He was suspended from the football team for repeated NCAA violations in 2003, unsuccessfully sued the National Football League to enter its draft in 2004, and succumbed to drugs and alcohol before he was arrested for armed robbery and sent to prison in 2006.
When he made the conscious choice to reform himself, Clarett says, Tressel was there and that theme is a pillar of the story.
"To me, I was very pleased with what was displayed," Clarett said. "I'm happy that the film transcends me and Coach Tressel. It has things people can relate to.
"I think everybody can get something out of it. My life matched up to what it was and they were able to tie Coach Tressel into it."
Tressel, who was forced out of Ohio State in 2011 after separate NCAA involvement proved he withheld knowledge of NCAA violations, never wavered in his support of Clarett.
"If you ask me to define our relationship," Tressel said, "there's deep respect and compassion and concern and love.
"We just enjoy one another's company and one another's love that has transcended some rocky times,
"At the end of day, I can count on Maurice and he can count on me."