Struthers Rotary carols to Maplecrest Nursing Home residents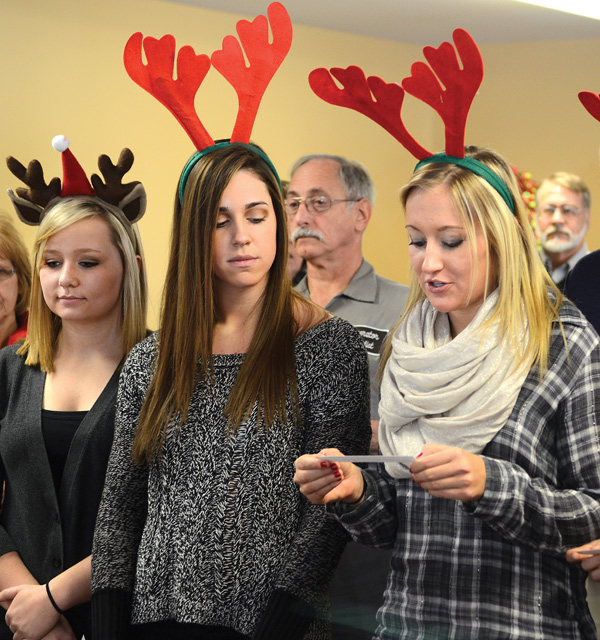 ---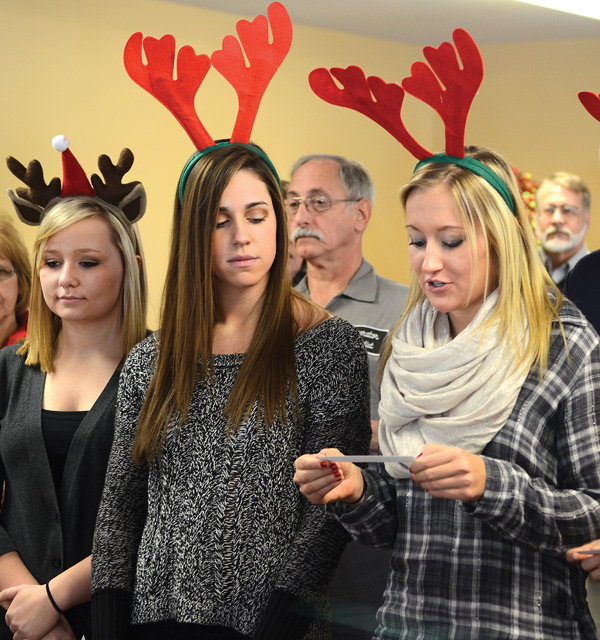 Photo
Ashley Kane, above left, Brittaney Zupko and Halle Smrek — all senior basketball players at Struthers High School — join the Struthers Rotary at Maplecrest Nursing Home to sing Christmas carols to residents. The five basketball players in attendance Tuesday afternoon donned festive reindeer antlers to help residents get in the holiday spirit. At top, Lisa Daprile, an owner of Maplecrest Nursing Home, joins in song with others from the Struthers Rotary.
By EMMALEE C. TORISK
STRUTHERS
Mary Ann Morell prefaced the Struthers Rotary's singing of Christmas carols — from "Winter Wonderland," to "Rudolph the Red-Nosed Reindeer," to an impromptu (and a cappella) "Santa Claus is Coming to Town" — with a warning to the residents of Maplecrest Nursing Home.
"We're going to sing the best we can," said Morell, who has belonged to the Struthers Rotary for more than 20 years.
"That's good enough!" chimed in 86-year-old Bridget Fortunato, a Maplecrest resident.
Fortunato and a number of other residents in attendance then proceeded to join in song with the carolers — which included not only Rotarians, but also five senior girls basketball players from Struthers High School and their coach — during their performances of seven well-known holiday songs early Tuesday afternoon.
Afterward, Fortunato noted that she enjoyed the carols, and especially appreciated having the chance to sing along with the group.
"Don't wait until next Christmas," said Fortunato, who explained that she'd sung with a choir in her younger years. "Come back sooner."
Visiting with the nursing home's residents is something that the Struthers Rotary wants to do more often, Morell said, adding that the annual song-filled visit is one that members have been making for the past several years.
It's a visit they continue to make, because it makes residents feel valued and lets them know that people care, Morell said.
This year, as a gift from the club, Rotarians gave a healing stone engraved with a cross and blessed with holy water to each resident.
The Nemenz IGA Supercenter in Struthers also donated oranges for the residents.
"It just makes them happy, us being here," Morell said. "It doesn't make any difference what we sing. Our voices are poor, but our hearts are in what we sing."
Lisa Daprile, who owns Maplecrest with her husband and is a Rotarian herself, said the residents eagerly anticipate the annual caroling.
Volunteers sang in both a commons room and through the building's hallways to reach as many residents as possible.
"It's bringing Christmas spirit into their home for them to enjoy," Daprile said.
Shortly before their performance, basketball players Ashley Kane, Ashleigh Ryan, McKenna Shives, Halle Smrek and Brittaney Zupko said they were looking forward to singing for the nursing home's residents — even though they hadn't practiced.
It's not very often that they get to interact with the community's senior citizens, Ryan said. Or to spread Christmas joy to them, Zupko added.
Their coach, John Grandy, said the visit allows the team's seniors to learn about life lessons, including the importance of giving back to others.
Joseph Nohra, superintendent of Struthers City Schools, agreed, saying he's happy that some of the district's students had the opportunity to stop by the nursing home.
"It teaches them about the greater goals in life," Nohra said. "[The residents] have already run the race, while [our students] are just starting the race."