Sister Jerome's Kids will get help with college expenses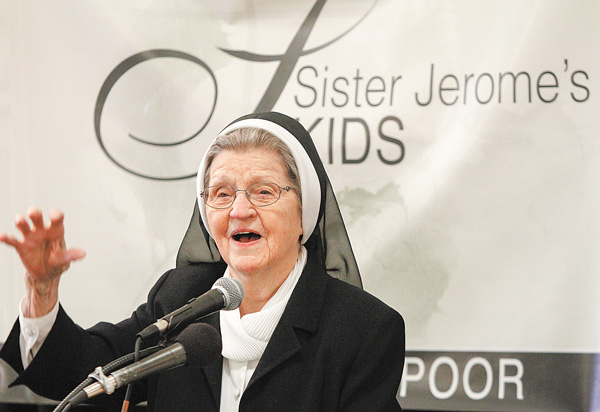 ---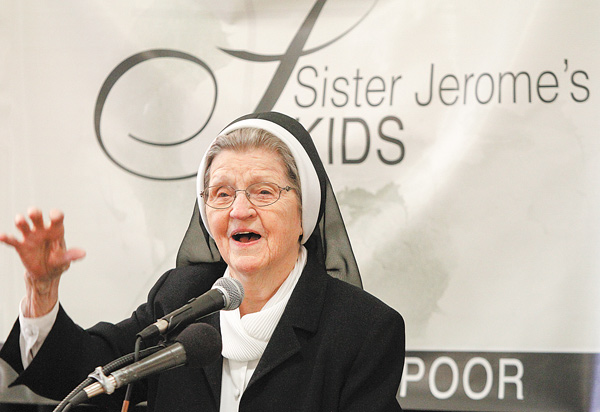 Photo
Sister Jerome Corcoran introduces Sister Jerome's Kids — Mission College during a press conference Tuesday in Tyler Mahoning Valley Historical Center in downtown Youngstown.
By LINDA M. LINONIS
linonis@vindy.com
YOUNGSTOWN
Sister Jerome Corcoran shared her vision and hope in her new project during a press conference Tuesday at Tyler Mahoning Valley Historical Center, 325 W. Federal St.
She introduced Sister Jerome's Kids — Mission College to about 60 or so politicians, government officials, business people and community supporters in attendance. Sister Jerome pointed out the stark facts of the challenges students from poor families face when they're trying to attend college.
Sister Jerome said Pell grants help students from poor families pay for college; her program won't underwrite tuition. Her project will target the "extra" expenses of books, housing, gasoline, food, clothing, unexpected car repairs and family emergencies. Those expenses often derail students' educations.
She said the projected cost of assisting each student annually is $2,500. Sister Jerome said supporting students in need now will "benefit everyone" in the long run.
"Of the kids whose family income is $33,000 or less who go to college, only 11 out of 100 finish in four years or at all," she said. "For those from families with incomes of $98,000 or above, 79 out of a 100 will graduate."
But, she noted, a bigger number comes into play with students who don't further their education, can't find a job and end up on public
assistance. "That costs society a million or more over that person's lifetime," Sister Jerome said.
She categorized that situation "as a national disaster" that's "all about income."
Mission College is an outgrowth of Sister Jerome's Poor, a project the 97-year-old Ursuline nun began in 2012 to help needy people. Sister
Jerome's Poor focuses on critical needs of groceries, utilities, clothing, gasoline and car repairs. Last year, the program distributed some $80,000 to address these needs.
In Mission College, which already is underway, Sister Jerome said 12 students, 11 from Youngstown Community School, have committed to the project. They attend college, trade or technical school.
"Each student signed an agreement," Sister Jerome said. It requires students to "obey school regulations, keep up grade-point average, keep finances in order and hold a part-time job."
Working with Sister Jerome is Sister Mary Dunn, volunteer mentor, who collaborated with her on Youngstown Community School. Sister Mary serves as the mentor and "enforcer," so to speak, in that she keeps tabs on students and makes sure they're living up to the agreement.
The students signed up for Mission College are well-known to the nuns. They have known them since they were 3 years old. The students were selected, Sister Jerome said, on how they handled responsibility, their intelligence and public presence.
"These 12 are setting the pattern," Sister Mary said.
She said six are attending Eastern Gateway Community College, one is at New Castle School of Trades and the remaining students are at other trade schools.
"Not everyone is college bound," Sister Mary said, noting some students have aptitude in the trades.
"There are lots of phone calls," Sister Mary said of her contact with the students. "I want to talk to a live person and stay in touch."
Sister Mary said the students are "becoming adults" as they learn to manage time and complete projects.
"I'm here to listen, care, direct and love them ... it's tough love .. nothing goes by," Sister Mary said. "And I will be checking grades."
Sister Mary said there are five A's that the students live by — attitude, "the world doesn't owe you anything"; attendance, "you have to show up"; academics, about grades; appearance, "look nice"; and appreciation, "we expect thank-yous for gift cards ... and specifying the amount and kind of card."
The nuns said the project has started out small.
"We want to see how we'll manage," Sister Jerome said.
Three young people already are on a waiting list.