Eric Kearney steps aside as the Democratic lieutenant governor candidate
---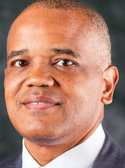 Photo
COLUMBUS
Facing pressure to withdraw as the Democratic lieutenant governor candidate because of numerous financial problems, state Sen. Eric Kearney defiantly said last week he wouldn't get out of the race under any circumstances.
Circumstances apparently changed with Kearney issuing a statement Tuesday that he and Cuyahoga County Executive Ed FitzGerald, who's running for governor as a Democrat next year, agreeing "that the best course of action is for me to step aside from the campaign for lieutenant governor."
Democratic sources had correctly said Monday and early Tuesday that Kearney, of Cincinnati, D-9th, wouldn't survive the week.
In a late Tuesday afternoon email on "FitzGerald for Governor" letterhead, Kearney wrote that his financial problems — about $825,000 in unpaid taxes owed by him, his wife and his business — "have come to be a distraction from a discussion of the vital issues facing Ohio, and the choice voters must make in this election."
Kearney added: "The stakes are too high. We need a change of leadership to move Ohio in a new direction that puts more Ohioans back to work and builds a better future for our children."
In a separate email Tuesday, FitzGerald wrote, "Ultimately, the discussion of the crucial issues facing Ohio was in danger of being drowned out [because of Kearney's tax problems], making this decision difficult but necessary."
Ohio House Minority Leader Tracy Maxwell Heard of Columbus, D-26th, and Columbus City Councilman Zach Klein, who were both on the short list before FitzGerald selected Kearney, are considered the top possible replacements.
State Rep. Robert F. Hagan of Youngstown, D-58th, said he respects Kearney, but he needed to leave the ticket.
"We don't need any distractions," Hagan said. "We want a fair tax system, and we couldn't talk about that with this hanging over our heads."
If Kearney had remained on the ticket, his tax problems could have been "the yoke around the neck of Democrats. I care about this state and the next election and the governor's race, and I don't want anything to interfere with that," Hagan said.
Alluding to the background check done before FitzGerald selected Kearney, Hagan said, "I'm sure the vetting is going to be twice as hard as the last time."
Senate Minority Leader Joe Schiavoni of Boardman, D-33rd, said of Kearney, "How could he stand up and talk about tax issues without the entire crowd and the media saying, 'Well, what about your tax issues?' It would be impossible to delve into those things without it being thrown at him."
Schiavoni was elevated last week to minority leader from assistant minority leader because Kearney, whom he called a friend, stepped down from the post as is tradition for those running for higher office.
Kearney's financial problems started being reported statewide almost immediately after FitzGerald announced him as his running mate Nov. 20.
New financial problems emerged with the campaign going into shutdown mode for about a week before Kearney attempted to explain the issues with state political reporters Dec. 4.
The 95-minute call was problematic from the state with Kearney discussing a spreadsheet of his tax problems without the reporters on the call having the documents.
Kearney repeatedly said on the call that he was providing "unprecedented" information for a lieutenant governor candidate, but failed to answer basic questions and sounded perturbed.
Kearney said FitzGerald knew about the tax problems for about a month before he was selected as his running mate, and didn't raise any concerns about them.
Ohio Republican Party spokesman Chris Schrimpf said, "Fitzgerald has done a huge disservice to Sen. Kearney and his family. By failing to fully vet him, FitzGerald put his running mate in an impossible situation for weeks before finally abandoning him in an attempt to save his own campaign."
FitzGerald's "lack of judgment and honesty will haunt him for the remainder of this campaign," Schrimpf said, adding: "If anyone should leave this race, it's Fitzgerald, who is clearly not prepared for statewide office."