Falcon murals done by local artist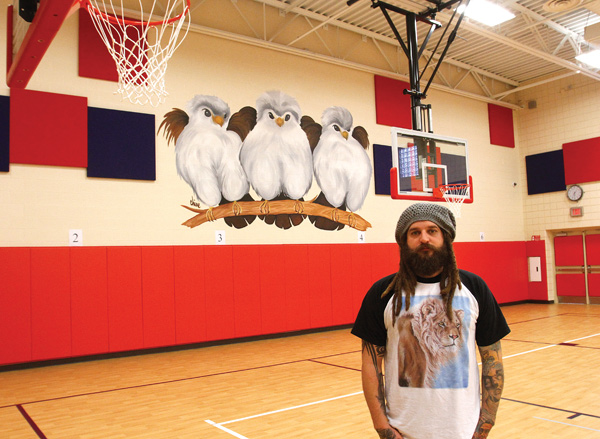 ---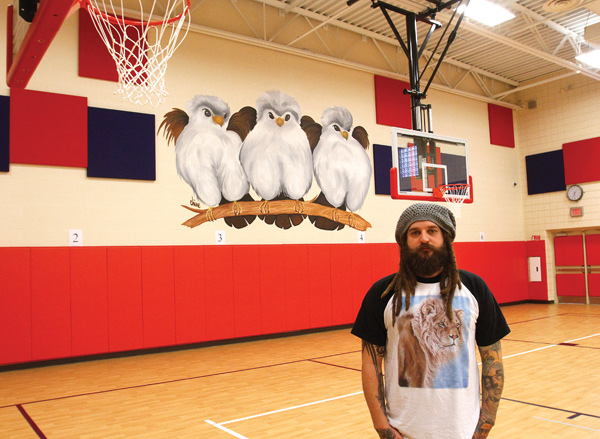 Photo
Aaron Chine, owner of Chinebox Ink on Mahoning Avenue, is the painter of murals at the Austintown schools. The murals depict falcons in various stages at each of the district's four schools. Chine, a Fitch High graduate, says he has always been into art and works with all forms.
By Kalea Hall
AUSTINTOWN
Aaron Chine is not just a guy with a tattoo shop in Austintown.
He's an artist who hones his craft in all ways possible, from drawing to painting and sculpting.
He creates permanent masterpieces out of canvases, skin and walls.
"I have always known this is what I wanted to do, whether it is super successful or not," Chine said.
Chine is not only responsible for all the murals in the four Austintown schools, he also is responsible for helping to instill Falcon pride in the students.
"We wanted to really get our brand out there," said Vince Colaluca, schools superintendent.
Chine, 33, is from Austintown and graduated from Fitch High School in 1998.
He said he was always good at art. Paintings at his tattoo shop, Chinebox Ink on Mahoning Avenue, are proof of Chine's talent. The Warren resident is the man behind the Dave Grohl Alley mural in Warren, and he has his own art shows at The Gorilla Gallery, which he runs, in Warren. He works with the Trumbull County Neighborhood Partnership.
But the Falcon murals are one of his favorite projects. "I was honored" to paint them," Chine said.
A former principal at Austintown Middle School last year asked Chine if he would paint murals in both the girls' and boys' gymnasiums. So, he made the Falcon in the girls' gym appear feminine with more hints of red, and the Falcon in the boys' gym appears fierce with more blue tones and its talons out.
Chine said the first mural was a bit difficult since all the murals cover a large portion of a wall. He would take a picture of the wall and draw out the Falcon on the picture to help him with its placement.
"After that one, it is like a walk in the park," he said.
Administrators at Austintown then asked Chine to continue his work at Austintown Elementary, Intermediate and the high school. He decided to make his murals progress at each school to reflect the age of the students. Chine penciled in the outlines for the murals and painted them with acrylics. The kindergarten through second-grade students have a wall of three baby falcons and the third- through fifth-grade students at AIS have adolescent falcons on the gym wall. The Falcon continues to change its appearance at AMS and Fitch High to fit with the students there.
"They really play well together," Chine said.
Chine has received nothing but positive feedback for the Falcon murals, including from his 6-year-old niece who attends Austintown Elementary. His father, Lou Chine Jr. — a former school board member who recently was re-elected and an Austintown graduate — is a proud fan of the murals. Chine descendants will see the murals for years to come, which is a factor that both Aaron and his father realize. "They will go there and see the family name even after we are gone," Lou said.
Aaron would love to take on more projects for Austintown.
"[Art] is definitely not an easy field," he said. "I think it is hard to do just one form of art. You have to work your craft."