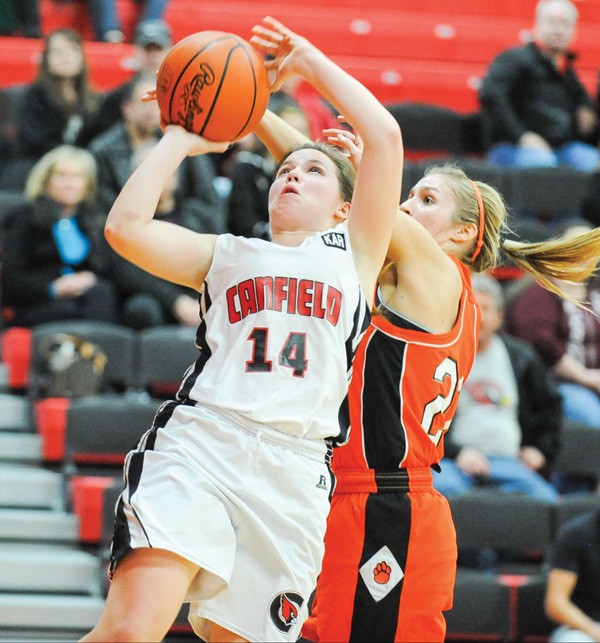 ---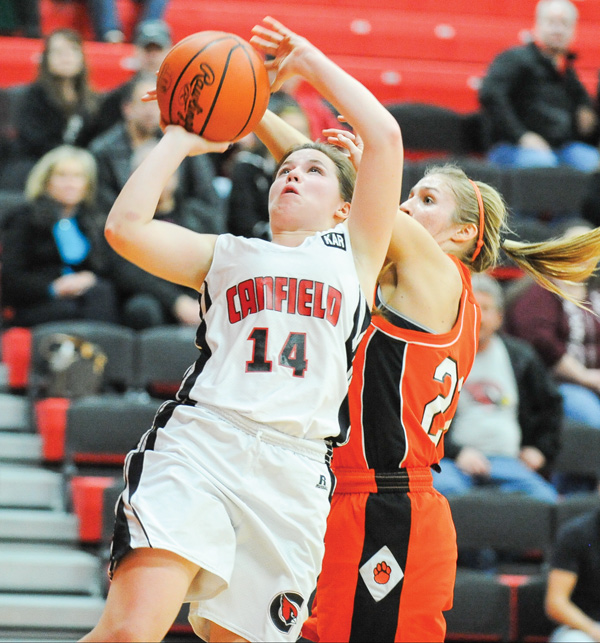 Photo
Canfield's Lynnae Whitehead (14) shoots after dribbling around Howland's Gabby Cvengros during Monday's game in Canfield. The Cardinals won the All-American Conference American Division game, 59-58.
By Joe Catullo Jr.
CANFIELD
A loud, gut wrenching, down-to-the-wire contest between the Howland and Canfield High school girls basketball teams on Monday night almost didn't happen.
Earlier in the day, Antoinette Ross, mother of Howland junior starter Lexi Ross, died after being struck by a motor vehicle.
Canfield coach Patrick Pavlansky heard about the death around 4 p.m., called Howland coach John Diehl (one of his best friends) and asked if they should postpone the game.
"We think it's the best situation for the girls [to play]," Diehl said to Pavlansky.
Howland players honored their teammate and her mother by writing "Win for Toni #12" in black ink on their hands.
"It took a toll on all of us," Howland's McKenzie Miles said. "We all were just devastated by it. We wanted to win this for them."
Canfield won the game, 59-58. A strong second-half surge almost earned Howland its third win, but the Cardinals' defense wouldn't allow it.
With 14.2 seconds remaining, Miles dove into a pile, trying to recover a rebound. She never had full possession, but the referees gave the Tigers (2-3, 1-2 All-American Conference American Division) a timeout.
As the clock trickled down, the Tigers put the ball in Gabby Cvengros' hands.
"That's what we were supposed to do, so it got in the right hands," Diehl said. "You always try to get it into your leading scorer's hands."
The Cardinals (3-3, 2-1) read the play and swatted the ball. On the inbound pass with 3.2 seconds remaining, the Tigers' Jada Pagan stole it.
Howland called its final timeout with less than a second remaining. It wasn't enough time as Canfield's Lynnae Whitehead stepped in front of Howland's final pass.
"The girls showed a great effort tonight," Diehl said. "They played hard, and I thought they were focused on this instead of the death.
"I'm pleased with our effort tonight."
The Tigers trailed, 21-10, early in the second quarter as Canfield went on a 12-0 scoring run.
What helped motivate Howland was its student section. The Tigers hit a jumper at around the 5:25 mark to trail by nine points. Fans cheered and celebrated as if they won a championship. There were times where it was hard to hear Canfield fans.
"In all the great teams that I had, this is the largest student section that has ever gone with us anywhere," Diehl said. "It's unbelievable."
Canfield's Erin Risner scored 20 points and made 11 rebounds. Rachel Tinkey and Whitehead had 14 points apiece.
Miles led the Tigers with 17 points and nine rebounds. Victoria Rappach tallied 16 points while Cvengros scored only four.
"You don't gain confidence until you win at the varsity level, and a lot of our kids haven't done it," Pavlansky said. "It was just fun to see that tonight."
There was no moment of silence for Antoinette Ross before the game. Diehl said the team's next home game against Niles on Thursday probably will be the time to do so.
"This might be your last possession; this might be your last game," Pavlansky said. "Who knows what's going to happen in life? We found that out so sadly today."