Cincinnati too much for YSU women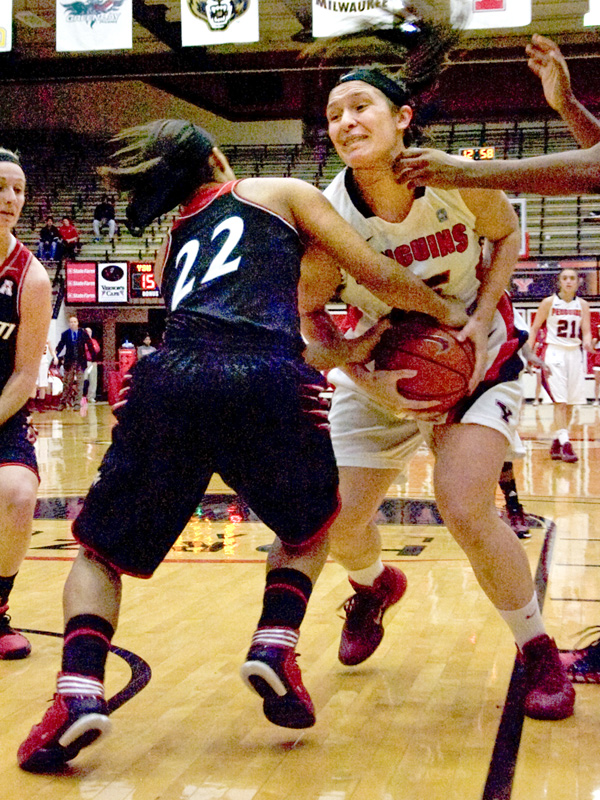 ---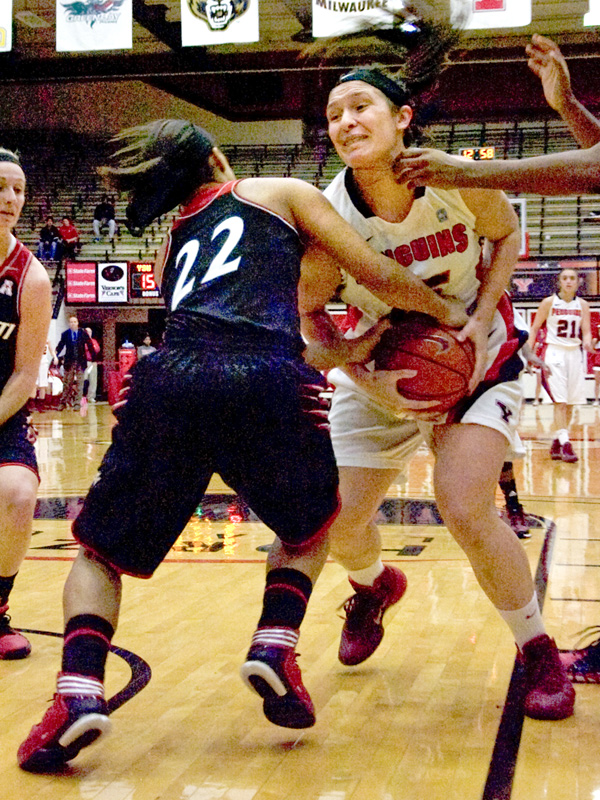 Photo
Youngstown State forward Heidi Schlegel fights for the ball Saturday against Cincinnati guard Bianca Quisenberry in the first half at Beeghly Center.
By Joe Catullo Jr.
YOUNGSTOWN
So far this season, Youngstown State's Heidi Schlegel looks very similar to Brandi Brown, at least offensively.
She's strong, physical and can take on three defenders at once. Schlegel is also the team's energy booster. She helped give Cincinnati a little scare during Sunday's 83-62 defeat at Beeghly Center.
The Penguins (1-6) just need more from those playing around Schlegel.
"It's really up to all of us," Schlegel said. "We have to really come together as a team. It's not just me scoring. We need everybody to score, come together and work really hard."
Schlegel finished with 24 points, including eight during a late 10-2 scoring run. The Bearcats (4-4) led by 21 points with 10:37 remaining in the game. Four free throws and two layups from Schlegel cut the deficit.
What killed the Penguins was defense. The Bearcats scored 40 points in the paint and collected 13 offensive rebounds.
"Our whole idea going into this game was to keep them out of the paint [and] make them shoot from the outside," coach John Barnes said. "They're big and strong.
"Heidi and Tish [Walker] are battling and doing everything they can to try to keep the ball from going in there. When they get tired, you sub in Kelsea [Newman] who's more of a small forward trying to play center. We were outmatched from the get-go."
The Bearcats also got a huge lift from Bianca Quisenberry. The freshman finished with a team-high 21 points and nine rebounds. She entered Sunday's game averaging 3.4 points and 4.7 rebounds per contest.
"We couldn't stop them on defense," Schlegel said. "We have to play smarter and harder. We're a small team, so we definitely have to play smarter."
UC shot 52.4 percent from the field and made all 13 free throw attempts. YSU shot 42 percent (33.3 from 3-point range) and 77.8 from the charity stripe. The Penguins began the game leading 15-6 to the 12:38 mark.
Behind Schlegel's 24 points was Karen Flagg with 10. She scored the game's first six points in less than two minutes. No other Penguin tallied more than seven points.
"We're trying to do everything we can to try to manufacture points," Barnes said. "For us, 42 percent from the field is really good against a BCS school. Thirty-three percent from the 3-point line is not great, but it's good for us. We just couldn't stop them. We had no answer for their players."
YSU is now 0-7 versus UC all time. The Bearcats are also one of just two Ohio Division I teams that YSU has never beaten. Ohio State is the other.
The Penguins' next game is on Friday against Ohio Valley at Beeghly Center.
"You like to learn from all of your losses," Barnes said. "We're not going to see teams that are that big, that quick and that talented. How much will it help us this year? I don't know. Three or four years down the road, maybe. Hopefully it puts a fire under us to get better."