Canfield native wins $100,000 for tuition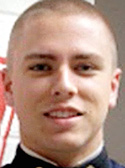 ---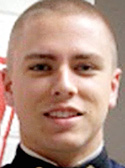 Photo
By Kalea Hall
Canfield
CJ Blaney had a difficult time explaining how he felt after winning $100,000 in tuition money in the Dr Pepper competition Saturday during halftime of the football game between Duke University and Florida State University.
"It's just really unreal," Blaney said Sunday.
The 20-year-old Canfield High School graduate said the money will cover the rest of his education in the ROTC program at Virginia Tech, where he is an Air Force cadet majoring in math studies. It also will help him with any student loans, and then he plans to give whatever is left over to his younger sister, a student at Gannon University in Erie, Pa.
Blaney's mother, Diane, of Canfield, also had a difficult time finding the words to describe her reaction to her son's winnings.
"It is such a stress reliever," Diane said.
Diane and her husband, Ron, have four children they needed to get through college.
"It all started when I said, 'You need to find more scholarships,'" Diane said.
Her son did just that. He searched the Internet for scholarships and came across the Dr. Pepper Tuition Giveaway and thought he should give it a shot. The competition required him to submit a video telling his story and why he should be selected. He competed against thousands of other students and made it to the Atlantic Coast Conference title game Saturday night in Charlotte, N.C., where he had to beat another student from Alaska in a football-throwing contest. If he won the contest, he got the $100,000. Fourteen footballs in an oversized Dr. Pepper can later, he became one of the four national winners.
"It never really kicked in," Blaney said.
In his strict, discipline teaching school, he is taught to never show signs of shock or nervousness.
"I really don't know how to be nervous," he said.
After he graduates from Virginia Tech, Blaney plans to be on the pilot's lot at the Air Force. He also wants eventually to use his math skills for the defense industry.
"I can never see myself retiring," Blaney said.
He wants other students to know if there are scholarships they thought about applying for to go for it.
"Go for it," Blaney said. "It may take time, but you never know. It turned out to be more than I ever imagined."