Stacie Durden crowned Miss Cinderella by the Junior Civic League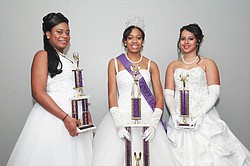 Photo
SPECIAL TO THE VINDICATOR Miss Cinderella 2013 was crowned Nov. 29 at the Cinderella Ball at Mr. Anthony's in Boardman. From left are Naudia Spivey, first attendant; Stacie Durden, Miss Cinderella; and Brianna Diaz, second attendant.
Staff report
BOARDMAN
The Junior Civic League of Youngstown sponsored its 58th annual Cinderella Ball Nov. 29 at Mr. Anthony's Banquet Hall, where more than 500 people witnessed the crowning of Stacie Noel Durden of Liberty High School as Miss Cinderella 2013. Asim Pleas escorted her.
Naudia Spivey of Liberty, named first attendant, was escorted by DeAndr Brown; and Brianna Diaz of Campbell Memorial High School, second attendant, was escorted by Martest O'Malley.
Durden, daughter of Anthony and Nicole Durden, is a member of Third Baptist Church, and her activities include varsity cheerleader, assistant cheerleader coach, track and field, I-Mime Ministry, church choir, Courtesy Committee at church and participating in the English Festival.
She is a member of the National Honor Society and the National Music Honor Society. Durden plans to major in music technology in college and hopes to become an audio engineer.
Scholarships will be awarded to the winners in June at the Junior Civic League Scholarship Luncheon. Durden will receive a $2,500 scholarship; Spivey, an $1,800 scholarship; and Diaz, a $1,500 scholarship.
The other debutantes and their escorts follow:
• Maysia Finkley, Youngstown Christian School, escorted by Sidney Hill Jr.
• Mioma Jones, Austintown Fitch, escorted by Todd Thornton Jr.
• Paige McClendon, Austintown Fitch, escorted by Kailyn Coleman.
• Kionna McQueen, Liberty, escorted by Caleb Graham.
• Christian Roberts, Austintown Fitch, escorted by Albert Jordan.
• Erica Taylor, LaBrae, escorted by K'Von William.
Anthony Durden, Liberty, was the 2013 page.
The 2013 Cinderella Ball chairwoman was Deborah Ferguson, and co-chairwoman was Christine Hennings. Susan M. Moorer is league president.
All proceeds from the ball will go to scholarships for students in the Mahoning Valley. For information about the league visit www.juniorcivicleague.org.