Varsity Blues: Mooney falls in D4 final
RELATED: • Controversial call does in the Cardinals
• Frightful weather, delightful game
By JOE SCALZO
scalzo@vindy.com
MASSILLON
Mooney vs Clinton Massie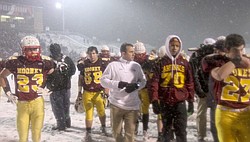 Video
Mooney was defeated by Clinton Massie in the State Championship game
Mooney vs Clinton Massie

Gallery
Cardinal Mooney was defeated by Clinton Massie in the state championship game.
In a game played in near white-out conditions, the Division IV state championship was decided by the color yellow.
Buoyed by a controversial pass interference call in the closing minutes, Clarksville Clinton-Massie rallied to win its second straight state championship, downing Cardinal Mooney, 27-21, on Friday at Paul Brown Tiger Stadium.
"Obviously we fell a little short," said Mooney coach P.J. Fecko, who fell to 4-3 in state championship games. "At the end of it, we ran short and fell behind and here we are."
The game's biggest play came with about two minutes left and the score tied at 21. On fourth-and-5 at the Cardinals' 20, Falcons quarterback Hunter Fentress threw to the middle of the end zone for a leaping Dylan Rose, who was closely guarded by Mooney defensive back Mark Handel.
Handel tipped the ball away from behind, then dragged Rose down before Rose could catch it. But Handel was flagged for interference, giving the Falcons a first-and-goal at the 10.
Two plays later, Clinton-Massie running back Bayle Wolf bulled in from 2 yards out to make it 27-21 with 1:10 left. (The extra point failed.)
It was the third touchdown run of the game for Wolf, who finished with game-highs in carries (33) and yards (172). His brother, Chayse, added 91 yards on 20 carries with a TD as the Falcons rolled up 21 first downs to dominate time of possession, 30:45-17:15.
"Both the Wolf boys just tore it up; they ran like beasts," Falcons coach Dan McSurley said. "I think where the game was won was in the trenches. Those guys were really heart and soul of our football team, but obviously the Wolf boys were a factor as well."
Mooney got the ball back at its own 21 with 1:03 remaining and quarterback Jon Saadey quickly ran for 22 yards for a first down at the 43. Two plays later, on third-and-4 at the Mooney 49, Saadey rolled right and fired a pass into traffic, where it was picked off by Kelson Gauden, ending the Cardinals' hopes for a ninth state title.
"I don't think there's a loss in any game that doesn't wear on you as a competitor," Fecko said. "Every single loss bothers you. Obviously, in the state finals, those are written about a little bit more.
"You have competitive juices and it's part of the game and it determines you to reach back, get back in the saddle, dust yourself off and figure out a way to get back in there and do it again."
It was the second straight Division IV state title for Clinton-Massie (14-1), a Cincinnati-area school that had never even been to the state semifinals until 2011.
Handel carried 16 times for 140 yards and two TDs for the Cardinals (10-5), who have been to the state championship game seven times in the last decade, with wins in 2004, 2006, 2009 and 2011.
C.J. Amill added 12 carries for 67 yards and a TD and Saadey finished 2 of 6 passing for 20 yards.
Defensively, senior linebacker Joey Tabachino had a game-high nine tackles, while senior defensive end Nick Hubert forced a fumble and junior linebacker Roosevelt Cooper recovered it.
"We've been fortunate," Fecko said. "This is my seventh trip here and hopefully, god willing, we'll see if we can't make it again."
More like this from vindy.com