SENIOR SALUTE: BAND EDITION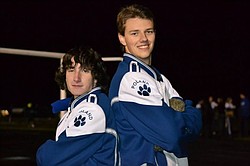 Photo
DEVIN BEAUMIER and CLAYTON MILLER.
Name: Devin Beaumier; Clayton Miller
Instrument: Percussion/snare drum; Trombone and guitar
Q. When did you start playing your instrument?
A. Beaumier: I started playing the drums when I was in the third grade.
Miller: I began playing the trombone and guitar when I was in fifth grade.
Q. Best memory of being in band/marching band?
A. One of their best memories of being the marching band was having the opportunity to travel to New Orleans and participate in the halftime show at the BCS Championship game. Beaumier and Miller also have enjoyed participating in the Massillon Band Night each year, as well as going to Cedar Point and playing there.
Q. Why is music important to you?
A. Beaumier: Music is important to me because it is a powerful uniting force among everyone. It also is a great form of expression. Some of my favorite musical numbers that the band performed were "Sing, Sing, Sing," which the marching band did my freshman year.
Miller: I really enjoyed when we played the "Jaws" theme song. The trombone had a fun part.
Q. What college do you hope to attend/intended major?
A. Beaumier: I am currently undecided on where I would like to go to college. I intend to major in either computer science or mathematics.
Miller: I plan to attend Ohio State University and major in actuarial science.