Poland defeats with season opener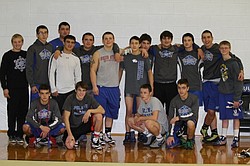 Photo
Neighbors | Submitted.The Poland varsity wresting team was 3-1 at the second annual Poland Duals. The team boasted wins against Salem (60-24), Hubbard (47-36) and Boardman (36-33).

Photo
Neighbors | Submitted.Anthony Morucci defeated Boardman's Jim Sferra in a close match to give Poland the victory 36-33 at the second annual Poland Duals.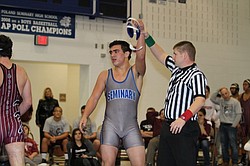 Photo
Neighbors | Submitted.Anthony Audi won his match against a Boardman wrestler at the second annual Poland Duals event.
Poland varsity wrestling opened its season by hosting the second annual Poland Duals, in which Poland, Ravenna, Hubbard, Salem and Boardman all competed for the Battle for the Bone Trophy.
Poland started the year by going 3-1 on the day with the only loss coming from Ravenna, with Poland giving a 12 point advantage to Ravenna due to two unfilled spots on their lineup, including last year's District Qualifier Abe Kassem (injury). They fell just short of a victory by losingg 33-36.
Poland defeated Salem 60-24 and dropped Hubbard 47-36 setting up the last match of the day against the Boardman Spartans.
Poland started slow and fell behind 21-6 against Boardman until Poland's sophomore Anthony Audi faced off against Boardman's Anthony Mancini, last year's district qualifier from Poland who transferred to Boardman. Audi and Mancini battled close and were tied at 1-1 in the beginning minutes of the third period when Mancini scored a take down to go up 3-1 against Audi who followed with an escape to bring the score to 3-2. With only four seconds left on the clock, Audi scored the final take down to win the match by 4-2.
"That was the spark we needed. You could feel the momentum shift after Anthony's win. Our guys were totally amped," said Coach Tony Stellato.
Poland then followed up with back to back pins from senior Michael Audi, sophomore Trey Ellis and a 5-3 decision to senior Bill Brundage when sophomores Dante Ginnetti and Darren Goodin both scored with a pin to set up a 33-33 tie.
Going into the last match of the day, Poland's Anthony Morucci took on Boardman's Jim Sferra, who had a close match and went into the third period 0-0 until Poland's Morucci scored three points with an escape followed by a take down to give a 3-0 win and a 36-33 victory over Boardman,
"That was a lot of pressure [for Morucci] and I couldn't be any more proud of him and the way he has battled back from last year." said Stellato.
Poland wrestlers that are undefeated so far include Dante Ginnetti, Darrin Goodin, Anthony Morucci, Anthony Audi, Mike Audi and Trey Ellis.