Clinton-Massie beats Mooney for D4 state championship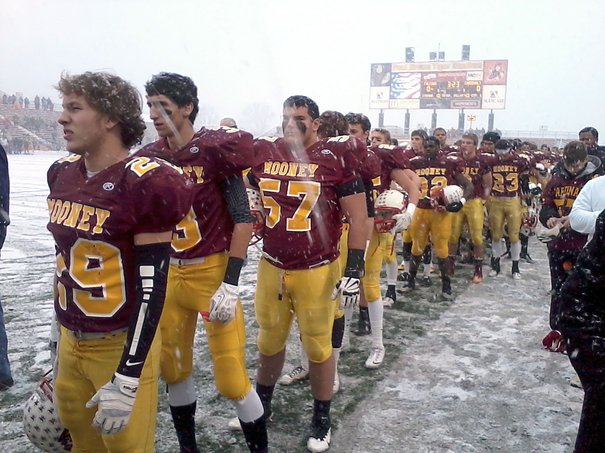 ---
MASSILLON
Bayle Wolf's 2-yard TD run with just over a minute left gave Clarksville Clinton-Massie a 27-21 victory in Friday's Division IV state final at Paul Brown Tiger Stadium.
Mooney got the ball back with 1:03 left and drove to midfield but Jared Halley picked off Jon Saadey's third-down pass and the Falcons ran out the clock.
Wolf tied the game at 21 on the opening drive of the third quarter on a 1-yard TD plunge. It capped a 12-play, 70-drive. All 70 came on the ground.
Mark Handel scored from 12 yards out on an option pitch to give Cardinal Mooney a 21-14 lead over Clarksville Clinton-Massie with 58 seconds left in the first half.
That's where the score stood at halftime. Handel ran 11 times for 120 yards and C.J. Amill has 57 yards on eight carries.
Chayse Wolf's 20-yard TD run helped Clinton-Massie tie it 14-14 early in the second quarter.
Handel's 68-yard TD run with 1:55 left in the first quarter gave the Cardinals a 14-7 lead.
The Falcons' Bayle Wolf scored on an 8-yard TD run with 2:17 left in the first quarter to tie it at 7.
Amill opened the scoring with a 25-yard TD run for the Cardinals.