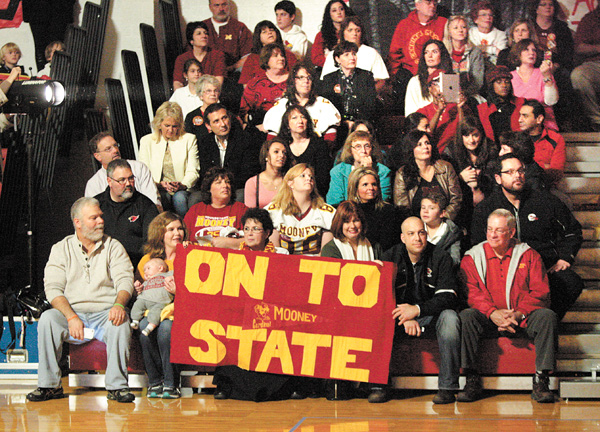 ---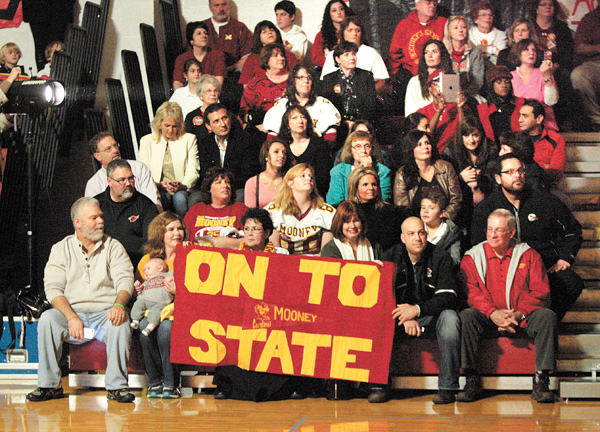 Photo
Families and friends cheer on the Cardinal Mooney Cardinals at a pep rally Thursday at the high school. The school sent the team off this morning to play in the Division IV championship game against Clinton-Massie at 3 p.m. in Massillon.
By JEANNE STARMACK
starmack@vindy.com
YOUNGSTOWN
They're telling themselves it's just another game.
That's what you have to do, said Cardinals senior offensive lineman Tyrell Rodgers and senior linebacker JoeyTabachino.
"So you don't get nervous," Rodgers said.
Gathered in the Cardinal Mooney High School gym Thursday for a pep rally before the send-off to the Division IV game against Clinton-Massie at 3 today in Massillon, players talked about what it feels like to go to the state championship.
They'll be trying for a ninth state title and, as receiver A.J. Moore put it, "Making history for the school."
"I'm going out with a bang my senior year," Moore said.
For junior defensive end Kan Stringer, it is about winning the state title "so we can do it again next year."
But for the freshmen through seniors who were there to make some noise Thursday afternoon, the focus was strictly on today.
They were proud and they were LOUD — in a collective roar, they drowned out the throbbing music.
With lights dimmed, the gym resembled a disco as dots of colored light swirled on the floor and glow sticks glimmered. If it looked like a party, that's because it was.
Parents, who have been "very supportive," said Mooney Principal John Young, were there en masse again.
"Oh yeah," said Patty DiVencenzo, mother of senior guard Dominic DiVencenzo. "We're gonna have to buy another ring."
Her son, who went to state as a sophomore, already has one championship ring.
Strutting through the crowd was the Cardinal mascot — spoiler alert, he's a guy in a costume. He was managing to stay upbeat in his heavy suit despite the unusually warm day.
"Stay classy, Youngstown!" would be his rallying cry.
And the suit? "Unbearable," he admitted.
There was cheering and dancing all around, and in the center of it were the players.
It was their moment.
Mooney alum Michael Zordich came back to inspire some confidence. He played for Penn State in the 1980s, and also in the NFL with the New York Jets, Arizona Cardinals and Philadelphia Eagles.
"Look up on that wall," he told them, pointing behind him at banners representing state championships for Mooney sports.
They told the story of the players who worked hard to put them there, he said.
"Twenty-four hours from now, you get to tell your story," he said. "You have an opportunity to put another banner on the wall with your name on it," he said.
Young told them to "remember every minute" of today.
"We talked the talk and walked the walk, but we have one more step to take tomorrow," he said. "Tomorrow, we're gonna bring home nine!"
The school planned a send-off at 10:30 this morning with buses leaving from a parking lot full of students and parents — and yes, said Young, there is a victory party planned for tonight.