Mooney, Clinton-Massie meet today for Division IV title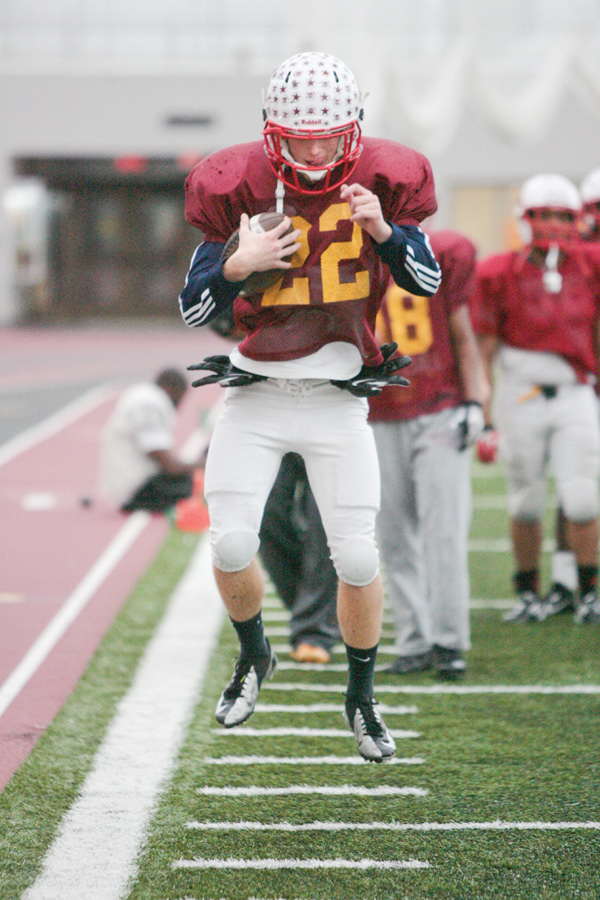 Photo
Cardinal Mooney's Mark Handel runs through drills during a practice at The WATTS at Youngstown State University. The Cardinals face Clarksville Clinton-Massie today in Massillon for the Division IV state title.
RELATED: Mooney, Clinton-Massie meet today for Div. IV title
The Cardinals have prepared like it's just another game
In the week leading up to today's Division IV state championship game, the entire Cardinal Mooney football program has tried to treat it like any other game week.
Only difference is, it's not.
The Cardinals kick off against Clarksville Clinton-Massie at 3 p.m. today at Paul Brown Tiger Stadium in Massillon in their 12th title game appearance in school history and seventh in the last 10 years. They've won eight titles.
Don't tell Cardinal Mooney coach P.J. Fecko that, though.
"It's obvious that they belong here and they've earned the right to be here," said Fecko, who is in his 14th season as coach. "They're the defending state champions, so they're no strangers to this territory."
He's not talking about his Cardinals team there.
As he does every week, Fecko begins by praising their upcoming opponent before even considering discussing ways he and his coaching staff feel they can exploit them.
This week, as they prepared for the Falcons (13-1), was no different.
"I think they do a great job of playing team football as well," Fecko said. "I think that you see a very good defense that has not given up many points and have shut down people when the need to shut down people. They also do a good job of getting teams off the field and putting the ball in [their] offense's hands — and their offense has done a great job of controlling the game, controlling the line of scrimmage, controlling clock, controlling tempo and putting points on the board."
Fecko is no stranger to coaching in the final week of the season. He's also never had a team go into any contest overconfident.
"They're an overall solid team that's going to be a daunting task for us," he finished with, as he praised Clinton-Massie.
As Fecko said, the Falcons feature an offense that likes to control the football and they do so with senior running back Bayle Wolf. He was named Ohio's Offensive Player of the Year in Division IV on Tuesday after rushing for 1,784 yards during the reular season. Between last year's state championship season and this year's run to the title, Wolfe has scored 73 touchdowns.
The Cardinal Mooney defense will have their hands full trying to slow down a Falcons offense that averages more than 40 points per game.
"It's just another game," senior linebacker Joey Tabachino said, keeping with the team's theme throughout the week. "We've got to come out and play as a unit and play as we've played all year. We've been playing really well these past few weeks in the playoffs so that's good."
Clinton-Massie knocked off Kenton last week, 21-20. Kenton was the top-ranked team in the state. The Falcons erased a 20-7 fourth quarter deficit to earn a second straight trip to the title game.
The Cardinals have an effective running game of their own with the one-two running punch of Mark Handel (174 carries, 1,213 yards and 12 TDs) and C.J. Amill (187 carries, 1,210 yards and 11 TDs).
Just like the rest of the team, Handel isn't thinking of today's game as anything more than another worthy opponent.
"We're tying to treat it as just another week," Handel said. "It's just another game how we prepare, how we go out in practice and how we go out and play."
Whether it's considered just another game or the biggest one of the year, the Cardinals and Falcons both have experience playing in Week 15.