Mahoning commissioners propose quarter-percent sales tax hike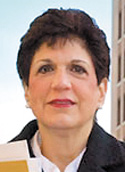 ---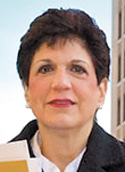 Photo
Carol Rimedio-Righetti, commissioners chairwoman
YOUNGSTOWN
The Mahoning County commissioners are proposing a one-quarter percent sales tax increase next year.
On Thursday, they agreed to conduct January public hearings concerning a May 6 vote on a sales tax renewal with a sales tax increase.
County Budget Director Audrey Tillis said a one-quarter percent increase, which would generate an extra $7.5 million in annual revenue for the county, is necessary to compensate for losses of revenue in recent years from the state, from the county's investments and from the loss of federal prisoners in the county jail.
The commissioners distributed a fact sheet showing what they said was $10.5 million in lost revenue since 2008, including a $3.2 million loss in investment income, a $2.9 million decline in state funding, and a $4.4 million loss in revenue that came from housing federal prisoners in the county lockup.
The county budget commission has estimated 2014 revenues at $50.2 million for the general fund, which is the county's main operating fund.
Carol Rimedio-Righetti, commissioners chairwoman, said the board will consider either placing a single issue on the May ballot to renew a current half percent sales tax continuously and to add an extra one- quarter percent for five years; or splitting the two issues into separate questions.
The county's other half percent sales tax already is a continuous tax with no stated expiration date.
"We're below where we need to be" in income, Tillis said. "This is not about building a reserve. This is about funding essential services of county government," she added.
"No politician in the history of government wants to raise taxes, but it's the right thing to do" under current circumstances, said county Auditor Michael V. Sciortino. "We need this to sustain the level of services that we're providing now," he added.
"It's the right thing to do because we still have to service 265,000 people and make them happy and safe no matter where they live" in Mahoning County, Righetti agreed.
Righetti and Sciortino, who are running for re-election next year, were joined at Thursday's meeting by a host of other county officials who said the increase is necessary.
The sales tax hearings will be at 6:30 p.m. Jan. 6 at the Covelli Centre, 229 E. Front St., and at 10:30 a.m. Jan. 13 in the commissioners' hearing room in the county courthouse basement.
Currently, Mahoning and Portage counties are among 15 Ohio counties with a total sales tax rate of 7 percent. Forty-nine of Ohio's 88 counties, including Columbiana, have total sales taxes of 7.25 percent; and Cuyahoga County has the highest rate at 8 percent.
Nineteen Ohio counties, including Trumbull, have a 6.75 percent sales tax; and four, including Stark, charge 6.5 percent.
The commissioners also entered into a $430,158 agreement with MS Consultants Inc. of Youngstown for engineering services for the widening of Western Reserve Road between Hitchcock Road and Market Street. The widening project will be funded in full by the federal government.
The commissioners also entered into a $259,000 contract with Prout Boiler, Heating and Welding Inc. of Youngstown for boiler replacement at the county's Martin P. Joyce Juvenile Justice Center, which has had the same boiler system since it opened in 1979.
The commissioners also voted to apply to the Ohio Department of Development for a $50,000 grant from the local government innovation fund for a study to help plan for the future of 911 emergency dispatching, including possible consolidation of the county's eight 911 answering points into fewer answering locations.