Good Hope Lutheran Church to put on Christmas performance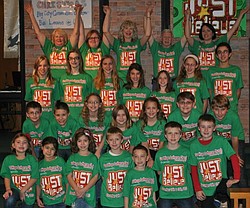 Photo
Neighbors | Submitted.The Good Hope Lutheran Church "Just Believe" cast, includes from left, (front) Sophia Kadilak, Natalie Ludban, Catherine Barany, Jacob Kadilak, Brennan Gorby, Jacob Jenkins, Carson Mauer; (second row) Isaac Nordquist, Ben Ludban, Kate Kadilak, Katie Biggs, Julia Basista, Andrew Biggs, Robbie Williamson; (third row) Kassie Williamson, Sydney Fike, Alyssa Jenkins, Ally Vouvalis, Julia Gorby, Emma Kadilak, Noah Basista; (top row) Linda Jenkins, Megan Adams, Lil Williamson, Bob Koehler, Karen Biggs.
Good Hope Lutheran Church, located at 98 Homestead Dr., invites you to come see "Just Believe" Dec. 14 at p.m. or Dec. 15 at 10 a.m.
More than 20 children and adults from the congregation have been practicing since July to perform "Just Believe."
The play will be filled with songs, dances and surprises. The production members are dedicated to making this performance spectacular.
There is no charge to attend.
For more information, please call the church at 330-782-8109.