Families learn about butterflies at Science Night

Photo
Neighbors | Abby Slanker.Mitchell Clifford tried on butterfly wings and 'flew' around the Austintown library meeting room during the library's Family Science Night Nov. 19.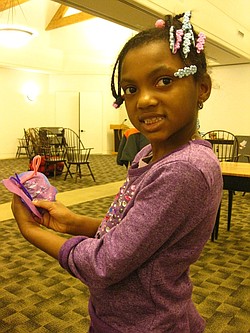 Photo
Neighbors | Abby Slanker.Kayla Lewis made a tissue paper butterfly during Family Science Night at Austintown library Nov. 19.
By ABBY SLANKER
Families gathered at the Austintown library for Family Science Night to learn all about butterflies Nov. 19.
Children librarians Hayley McEwing and Kathe Orr had several activities planned for the evening, including reading the participants books about butterflies, including 'From Egg to Butterfly,' which explained the metamorphosis of a butterfly.
"With science being a part of the common core in schools, we like to tie in with that," said McEwing.
McEwing then showed the children the Live Butterfly Garden app on an iPad, which was interactive and showed the virtual path of a butterfly forming. Each child was able to tap to iPad to feed the caterpillars or control if it was night or day, as it was projected on a big screen. When the butterfly was completely formed, it could be released at the push of a button.
McEwing and Orr also focused on the Monarch butterfly, showing the crowd pictures from books and telling the children that in November, the Monarchs migrate south to Mexico.
"It takes these butterflies days and days and up to months and months to migrate to Mexico," McEwing said.
She then showed the audience a YouTube video of the Monarchs migrating, much to the amazement of the children.
Also available to the families was a dramatic play station where children could experience the metamorphosis of a butterfly by putting a sock on their arm to be a catepillar; being wrapped in crepe paper to simulate a cocoon and putting on wings to become a butterfly.
A craft station was also set up for everyone to create their own tissue paper butterfly and wooden puzzles and bug games were available to the families.
McEwing even brought in her own bug collection to share, which included such bugs as a stink bug, a dragonfly, a hornet and a bumble bee, for everyone to get close up view.