Howland's Diehl notches 400th victory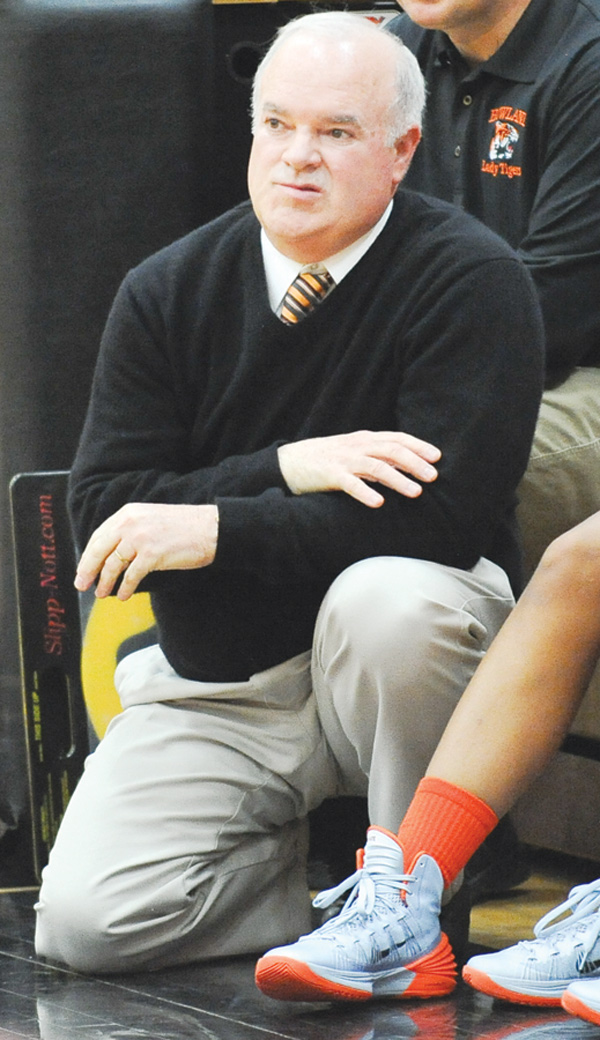 ---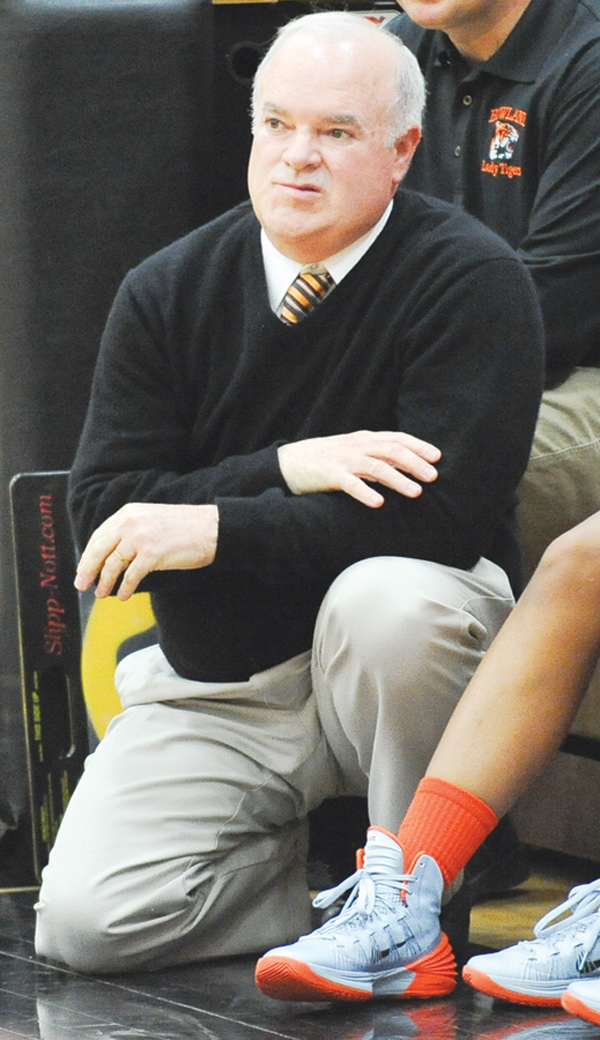 Photo
Howland head coach John Diehl watches from the bench during Thursday's game against Warren Harding at Howland. The Tigers downed the Raiders, 53-43, to earn Diehl his 400th career win.
By JOE CATULLO
HOWLAND
Howland High girls basketball coach John Diehl can officially say that he's won 400 games in his 29-year career after Thursday night's victory over Warren Harding.
"We've been looking for this game since last season, and I think this was the perfect game to do it," the Tigers' Gabby Cvengros said.
A moment that ended with a standing ovation, a team photo at half court with balloons that read "400" and numerous photos taken almost never happened.
"You win 400 games because you've been around for a long time, you have great players, great assistants and great administrators that save your butt," Diehl said. "There's been a couple of times they've tried to fire me here and at Bristol. They had nice board members that saved my life."
Out of his 400 victories, including the Tigers' 53-43 win on Thursday, 293 have been in Diehl's 20-year career at Howland. The other 107 came in nine years as Bristol's boys coach.
"To be honest, I wasn't that excited about it," Diehl said. "It was kind of just another game, but it's nice."
The Tigers (2-2) utilized a strong second-half performance to lift them over Harding (0-3). The Raiders led by 10 points (19-9) after the first quarter.
The biggest problem for Howland was guarding the post, of which Maya Bell took full advantage. Bell finished with 22 points and 21 rebounds, both game highs. She tallied 11 points and 15 rebounds in the first half.
"She really stepped her game up," Harding coach Frank Caputo said. "First couple [of games], she struggled but came in tonight and showed what she's been doing in practice. That senior leadership kind of came out in her, and she really wanted the ball."
Bell was one of just three Harding players to score. Chelsea Dipaolo finished with 16 points (four 3-pointers) while Gariana Bercheni scored five.
"I think fatigue set in a little bit," Caputo said. "They actually picked up their defense on us. They started doubling down on us in the post, and we just had trouble converting on some easy layups."
The Tigers took their first lead with 2:35 remaining in the third quarter. With a 32-30 advantage to begin the fourth quarter, Howland bolted to a 10-2 scoring run to the 4:44 mark.
Cvengros finished with 15 points and 16 rebounds, both team highs. She elevated her game in the second half with eight points and helped contain Bell.
"She's not shooting at her percentage where it was last year, but she's hustling more this year," Diehl said. "She made some nice, big steals in the fourth quarter. She did a nice job tonight."
All eight Tigers who played scored at least one point. Lexi Ross had 13 points, and McKenzie Miles scored seven.
"I know it's my last year playing Harding, so I wanted to go out as hard as I could," Cvengros said. "They've always been our biggest rival, and I really wanted to win tonight."