Canfield Cardinals Prepare for Success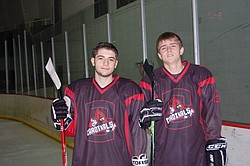 Photo
.Neighbors| Submitted.The Canfield Cardinals varsity ice hockey team is gearing up for a successful season. Pictured from left to right, senior captains, TJ Sakkas and Nick Crescimanno
If hard work, dedication and persistence are any indicators to success, the 2013-14 season for the Canfield Cardinals varsity ice hockey team should prove to be a good one. Senior captains, Nick Crescimanno and TJ Sakkas have led the Cards during an off season of conditioning that has prepared the team for the long haul in the Greater Cleveland High School Hockey League. Crescimanno, playing forward and defense, was first in scoring last season with six goals and seven assists, as Canfield battled inexperience and a tough schedule picking up just three wins in 2012-13.
"Nick is a leader. He sets a great example both on and off the ice. He is the epitome of a student athlete. I look forward to seeing him lead this team," said head coach, Randy Emery. Alternate captain TJ Sakkas, spent most of his summer working hard to improve his skills traveling to Cleveland to play in summer leagues,"
"I know TJ has the will to succeed and this comes across in his efforts on the ice. He shows great dedication to our sport," said Emery.
Sakkas scored five goals last season for Canfield. The junior class appears to be the Cards strength, however, in a preseason scrimmage, junior defenseman, Grant Gullia broke his fibula and will miss the season.
"Grant worked his tail off improving his skills, and is going to be missed a great deal," Emery said.
It will be up to defenseman JP Clendenin to pick up the slack for his fallen partner, as well as PJ Denney, Danny Drotleff, and Mitchell Blasko, all junior forwards who hope to pick up the scoring pace this season.
The sophomore class returns forward, Pete Crescimanno, who showed excellent skil last season and in preseason this year, along with hard hitting winger, Collin Fishel, who battled injury through football this year and Patrick Byrne, starting goalie. Newcomer, Zoie Amatore has shown great promise in preseason and should be a big part in the Cards plans. Stephen Sansoterra steps up from the developmental team to take on a varsity role. Freshman defenseman, Noah Guerrieri and Anthony Clendenin will have to learn on the job as they will need to absorb playing time with the Gullia injury.
Defenseman, Tony Cole also looks to contribute this season.
The Canfield head coach is Randy Emery, assisted by Joe Villano, Paul Barnes and Mark Maxwell, who also handles the developmental club team made up of fourth- through ninth-graders.
Canfield will take on West Geauga on Dec. 7 and Twinsburg on Dec. 14 at 5:15 p.m. at the Ice Zone. The complete Cardinal schedule is online: www.eteamz.com/canfieldhockey.