BREAKING NEWS | Read full report on sexual harassment claims against Kitchen
YOUNGSTOWN
An investigation found claims by Lyndsey Hughes, a city council employee, that DeMaine Kitchen, the mayor's former chief of staff/secretary, sexually harassed her to be credible.
Kitchen sexual harassment report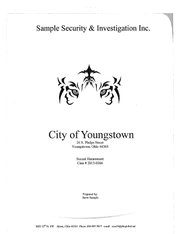 Document
Sexual Harassment Case #2013-0266 prepared for the City of Youngstown by Sample Security and Investigation Inc. regarding a complaint filed by Lyndsey Hughes against DeMaine Kitchen.
The report, released today, states Kitchen's "verbal actions" had "no tangible detrimental" impact on Hughes' job performance.
Hughes provided text messages from Kitchen to investigators.
They include: "I get that and it's cool. I just don't want u to treat me like a stalker or something :-). It's urs if u ever want it tho," and "Ur my girl and I've been attracted" to you.
Kitchen admitted to sending the text messages.
Kitchen told investigators that he and Hughes "both said things that were inappropriate or at least playfully inappropriate" and admitted he flirted with her, but never "to the point that they were threatening or serious."
Hughes' attorneys already have filed a charge with the federal Equal Employment Opportunity Commission seeking a "right-to-sue" letter that would permit them to take the city to federal court on the harassment complaint.
For the complete story, read Saturday's Vindicator and Vindy.com