Book fair raises funds at Robinwood Elementary School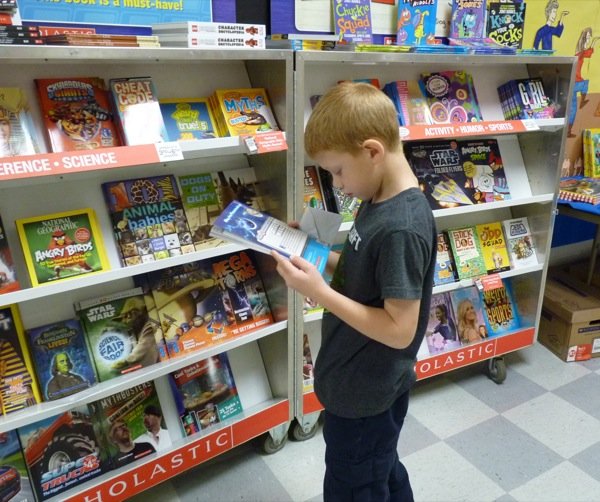 ---
By ELISE McKEOWN SKOLNICK
Robinwood Elementary School was "a cool place to discover hot books" for a week.
That was the theme of this year's Scholastic book fair, which started Nov. 4.
An Egyptian oasis was created using pyramids, mummies, camels and sand. The annual event gives students in all grades at the elementary school the opportunity to purchase books for their home libraries.
The books are reasonably priced, said librarian Debbie Slavens. Some of the value-priced books are $2, with the majority of prices around $4 or $5.
"It's a great way to get books into the kids' hands," Slavens said."It's nice because Scholastic provides such a wide range of ability books," she said. "We have everything out there from board books all the way up to the longer chapter books, like the 'Harry Potter' [series of books] and that type of thing. So it's a nice range, very nice range, for them."
Many of the older children gravitate to the "Diary of a Wimpy Kid" book series by Jeff Kinney and the "A to Z" mysteries series of books by Ron Roy, she said.
Alivia Shablesky, a second-grader, said there were many choices. She said the "Monster High" series of books by Lisi Harrison are popular.
Layla Sims, also a second-grader, said she enjoys the book fair because she likes to read.
Frank Quinlan, a first-grader, purchased "Fix That Truck" by Michael Anthony Steele. Quinlan said he enjoys reading.
Students also had the opportunity to donate up to $4. Slavens will use the money to purchase new books for the school library. Scholastic matches the amount raised dollar for dollar and uses the funds to provide books for children who don't have access to them.
"The kids have responded really well to that this year," Slavens said. More than $320 was collected.