YSU women unable to keep late lead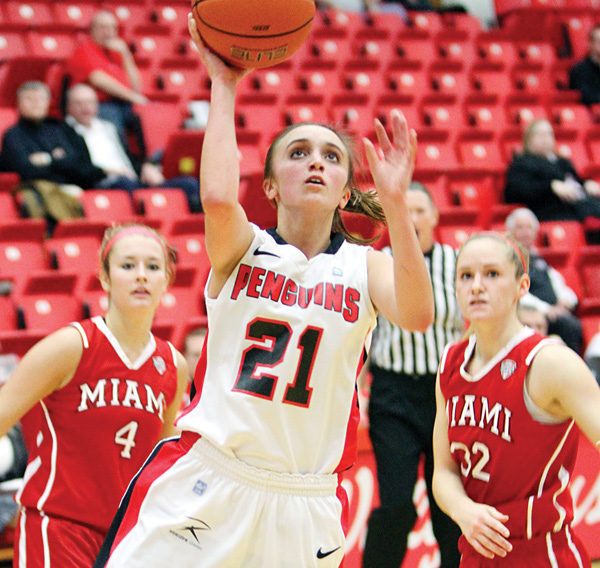 ---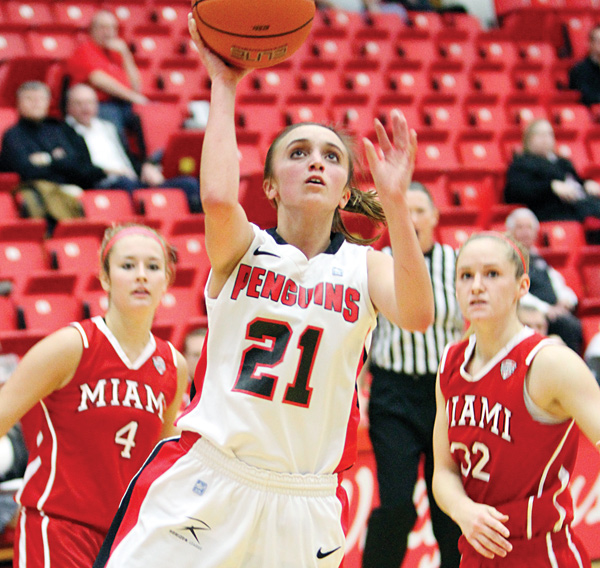 Photo
Youngstown State's Liz Hornberger shoots past Miami of Ohio defenders Maddie McCallie (4) and Hannah Robertson (32) during their game Wednesday at Beeghly Center. The Penguins fell to the RedHawks, 70-67, in the final minutes.
By Joe Scalzo
YOUNGSTOWN
Looking like she didn't know whether to cry or throw something, Youngstown State senior Liz Hornberger summed up Wednesday's 70-67 loss to Miami (Ohio) with this: "We haven't had a close game yet and it showed."
Leading 67-61 with just over two minutes left, the Penguins crumpled under the RedHawks' defensive pressure, committing three turnovers while Miami closed out the game on a 9-0 run.
"I thought we panicked a little bit," YSU coach John Barnes said. "They picked it up to another level and we didn't rise to it."
Hornberger scored a season-high 16 points — just two points off her career-high — and added six assists for the Penguins (1-5), who have lost three straight.
"We're not used to pressure, we're not used to taking care of the ball and keeping the small lead we had," Hornberger said. "We lost our composure.
"Down the stretch, we've got to be tougher and we've got to know we have the lead for a reason and we've got to keep playing like that."
Hornberger had a chance to stretch YSU's lead to nine points with 1:40 left but missed a wide-open 3. Miami's Hannah Robertson grabbed the long rebound and made a layup in transition, then stole the ball from Karen Flagg seconds later, setting up a pair of free throws by Kindsay Brandt with 1:11 left.
After YSU junior Heidi Schlegel was called for traveling with 1:09 remaining, Brandt found a driving Nicole Anderson with a pretty rainbow pass underneath. The layup tied the game at 67 with 52 seconds left.
Schlegel was then hit with a charging call inside and Robertson made a layup with 14 seconds left to give the RedHawks a 69-67 lead. Flagg had a chance to tie it with four seconds remaining on a pull-up midrange jumper, but was off the mark.
"I felt good about the position we were in," Barnes said. "We've just got to finish it and we didn't.
"We've got seniors that have been in a lot of close games. They've been there. We need to know how to finish it and finish it."
Robertson led Miami (2-5) with 15 points and eight rebounds and Maddie McCallie had 12.
Redshirt freshman Kelsea Newman added 12 points — triple her previous career-high — and Schlegel had 12 with six rebounds for the Penguins, who will host Cincinnati on Sunday.
Boardman High graduate Monica Touvelle, who has been battling a foot injury, played her first game of the season, going scoreless in three minutes.
"We've got to get ready for Cincinnati," Barnes said. "If we come back and beat Cincinnati, it makes this one hurt less."