Stability hallmark of Mooney football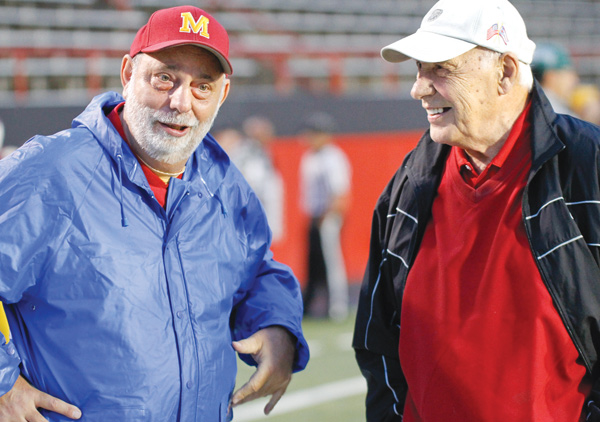 Photo
Don Bucci, right, is one of just four head coaches in Cardinal Mooney football history. Bucci took over in 1966 and spent 34 seasons leading the Cardinals. He guided Cardinal Mooney to four state championships before retiring from coaching and taking over as athletic director. Bucci is pictured with former Cardinals basketball coach Roy Nard.
Cardinals have had just four coaches; only Bucci,
Fecko have guided storied program since 1966
YOUNGSTOWN
Eight and four.
To most high school football programs, those two numbers may represent an above-average record in a single season. However at Cardinal Mooney High School, they take on an entirely different meaning.
The eight represents the number of football state championships they've won in the school's 57-year history. The four represents the number of football coaches the program has had over that time.
Of those four coaches, two are responsible for the eight state titles.
Cardinal Mooney High School opened in 1956. In its first 10 years, the program went 52-29-5 under the direction of John Hudzick (1956-60) and Denny Barrett (1961-65). During the 1961 season, a much younger Don Bucci joined Barrett's coaching staff as an assistant. Bucci worked and learned under Barrett's direction for five seasons before taking over as head coach of the Cardinals prior to the 1966 season.
Over the next 34 years, Bucci went 284-79-5 games and led Mooney to four state championships (1973, '80, '82, '87), before becoming the school's athletic director after the 1999 season.
During his final season as head coach, Bucci had a defensive coordinator named P.J. Fecko who had climbed the coaching ranks rather quickly.
Fecko played defensive end for the Cardinals in the early 1990s and attended Youngstown State, but remained close with his former coach. Then, in 1994, Bucci had Fecko run the offseason weight-training program, remembering how intense he was as a player under him.
"He was, how should I say, a real intense type of individual," Bucci said with a laugh. "Wasn't real big, but he'd be one of these guys that liked to come across and put you away."
Fecko worked his way up and was eventually named defensive coordinator prior to Bucci's departure in 1999. That season, the Cardinals' defense set a record for fewest points allowed in a season, according to Bucci, who remembers the discussions he used to have with Fecko on the sidelines.
"I loved to blitz and I can always remember yelling at him 'We gotta go after them! We gotta go after them!,'" Bucci said. "'I've never seen a quarterback throw a good pass when he's laying on the ground.'"
Following the season, Bucci stepped down as head coach, but remained with the program as the school's AD. He turned over the coaching duties to a 25-year-old Fecko, just eight years after he had graduated from Cardinal Mooney as a student.
Fecko struggled early on going 11-19 in his first three seasons and would often take time to visit with his old coach. They'd sit down and talk football, Bucci said.
However as the years went on, the former coach began to see the new coach getting more comfortable in his own system and his ways of doing things and the visits became less about football and more about other things.
"I think he did a good job of gathering a great staff together," Bucci said. "And also, when he took over he was very young and he was able to relate well with the kids. He's always had a good relationship with the kids."
Two years after going 1-9, Fecko took his first team to the playoffs in 2003. The very next year the Cardinals won the first of four state championships on his watch.
Fecko, now 126-49 with four state titles of his own, has often said his relationship with Bucci is something he cherishes and he owes a lot of his success to the foundation that was laid years ago.
"I have a tremendous amount of respect for Coach Bucci and what he's done and all the hard work that he's put in over the years," Fecko said. "It was easy learning through his system and modeling his system because, obviously, it was a very successful one."
Between the two of them, they have 60 playoff victories and eight state championships. While Bucci insists he's excited for his successor, who has a chance to pass him with a fifth state title Friday, the athletic director in him has a bigger goal in mind for the Cardinal Mooney football program.
"What I'm really excited about is the [opportunity] to get that ninth title," he said. "Right now we're tied with [Archbishop] Moeller [and Newark Catholic] at eight and they have to play Mentor, so I'd be the happiest guy in the world if we could get that ninth title."
Only Cleveland St. Ignatius, with 11 state titles, has been more prolific in Ohio than Moeller, Mooney and Newark Catholic.
A win Friday against Clarksville Clinton-Massie and that number for Cardinal Mooney would change to nine and four.
But who's counting?