Unselfish Penguins top Robert Morris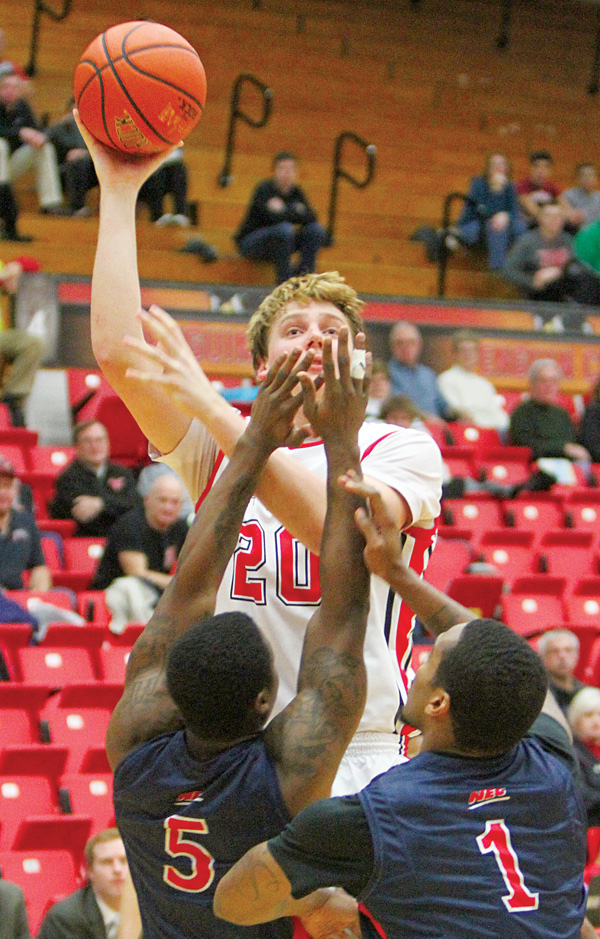 ---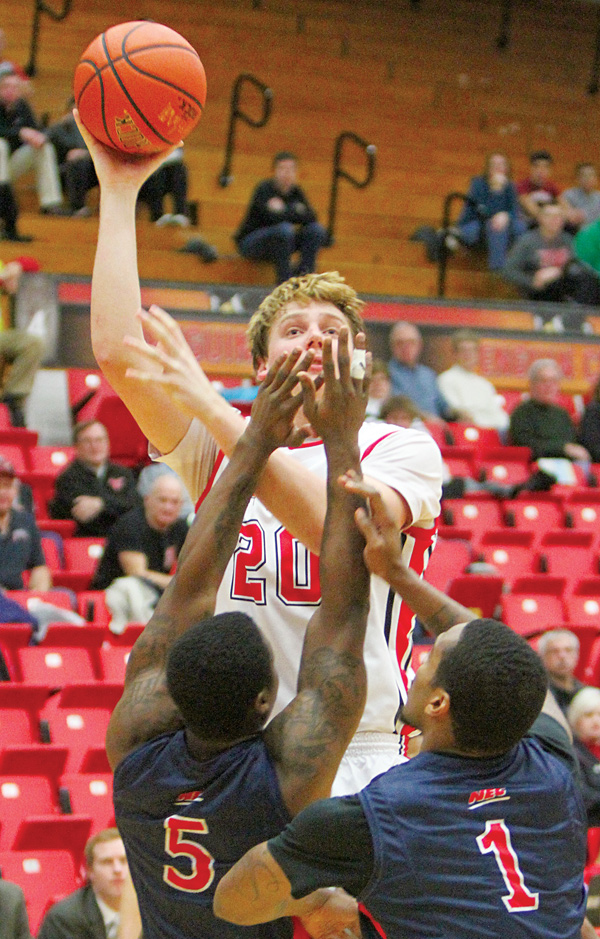 Photo
Youngstown State's Bobby Hain shoots over Robert Morris defenders Anthony Myers-Pate (5) and Mike McFadden (1) during their game Wednesday at Beeghly Center. The Penguins downed the Colonials, 84-76.
Unselfish Penguins top RMU
By Joe Scalzo
YOUNGSTOWN
Youngstown State men's basketball coach Jerry Slocum is well-spoken, but he has a way of occasionally inventing words during his press conferences.
Like on Monday when he when he said Marcus Keene might be one of the most "giftedest" offensive guards he's ever coached.
Or on Wednesday when he admitted part of the "stressiness" of the last couple days centered around how the Penguins would play at home.
Turns out, he was too worryable.
With starting point guard D.J. Cole back in the lineup after missing the previous game with an ankle injury, the Penguins played solid, unselfish basketball to beat Robert Morris, 84-76, and earn their first win over the Colonials since 2001.
"The main reason [for the win] is we lost two in a row, and one thing we always talk about is trying not to lose back-to-back," said Cole, who finished with a career-high 19 points to go with six assists and six rebounds. "We came out tonight with fire and energy and we've got to keep that intensity the rest of the season."
Kendrick Perry added 27 points, eight assists, three rebounds and zero turnovers in 39 minutes as the Penguins finished with a 23-3 assist-to-turnover ratio.
"The stat line was incredible tonight," Slocum said. "It just talks about how you're sharing the ball, how the ball's moving and rotating. Just a great effort by our guys against a team that's a championship-quality kind of team."
The Penguins led by 16 points with six minutes left before the Colonials amped up their full-court pressure, getting within six with a minute left to cause some stressiness at Beeghly Center. But Perry and Kamren Belin — two of YSU's most giftedest offensive players — combined to make three free throws down the stretch and seal the win.
"I thought that they did a good job on us at the end of the game," Slocum said. "We hadn't been in that situation other than practice but I thought that we did a pretty good job with it."
Belin scored 14 points and Ryan Weber had 12 with six rebounds and five assists, a performance Slocum felt was a big difference in the game.
"At one time he had four defensive rebounds in a row when we put that [point] distance on them [Robert Morris] in the second half," Slocum said of Weber. "He's coming of age, he's learning how to play defense a little bit and I thought he had a heck of a night."
Senior Fletcher Larson also played well, giving the Penguins 19 solid minutes when starting center Bobby Hain got into foul trouble.
"He's capable," Slocum said of Larson. "I wish we could package this one and get that from him every night. He gave us a really good lift."
YSU improved to 4-1 at home, but Wednesday's win was the first against a Division I team. Slocum's team plays just two of its next eight games at Beeghly Center.
"When you go on the road, there's a circle-the-wagon attitude," Slocum said. "Our guys have been so dialed in on the road. We get home and we just relax. That was the stressiness of the last couple days for me. Are we gonna finally play?"
They did.
Thanktastically.