Prune your shrubs for some unique interior home decor Holiday greenery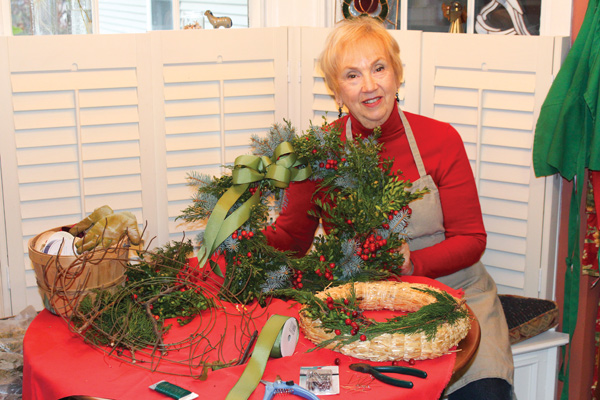 ---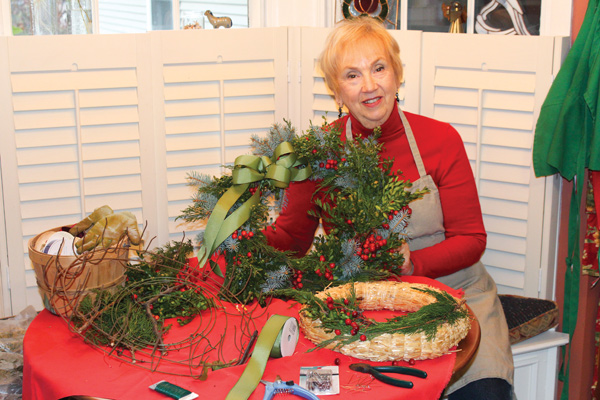 Photo
OSU Extension Master Gardener Volunteer Barb Delisio shows some of the supplies needed to use fresh greenery in the home.
By Barb Delisio
OSU master gardener volunteer
We all want the old-fashioned kind of Christmas decorations we remember from long ago. The kind with greenery draped down banisters and across mantels, pungent-smelling wreaths hanging about and beautiful table decorations.
We forget we don't have the same heating systems as we did then so our indoor decorating with green material must undergo a little change.
We can still deck our halls; we just need to know how to maintain the greenery.
Looking for holiday greenery in your own landscape has many benefits. They will be the freshest greens you will find, the most reasonable costwise (i.e., free), and your materials will be unique to your home.
It's important to remember when gathering the greenery from your shrubs and trees you are actually pruning the plants, so cut judiciously. Make your cuts evenly around the tree or shrub to keep its natural form. For indoor decorations, the best greenery to use is pine, fir and cedar. Others greens such as ivy, holly, boxwood or magnolia leaves work well also, you just need more attention to water because they dry out sooner.
When using fresh greens it's best to put the decorations up just a week or two before Christmas. Cut your greens a few days before you're going to arrange them. Keep them in a garage or cool area. Re-cut the stems into small pieces, 10 to 12 inches long and pound the end of them with a hammer so the stems will absorb more water. Soak the greenery overnight in a bucket or tub of water, immersing the needles as well as the stems.
Materials needed to make your wreaths or centerpieces are relatively simple. A wire or straw wreath form works best in making your wreath. The forms come in a variety of sizes from 12 inches to 36 inches. If you are using a wire frame, you will need some paddle wire to attach your greenery to the wire frame. If your base is a straw wreath, you will need some U-shaped pins called greening pins, to attach the greens to the straw wreath. All of these materials can be purchased at your local craft stores. It is best to attach the longer-needled greens (like white pine) to your wreath base first, making sure all the stems go in the same direction. Then fill in with other sized green to make a full compact wreath. Once your base of greens is complete you can add any decorations you like, such as holly, hydrangea blossoms, rose hips, sweet gum balls, pine cones — the list is endless.
Containers for your greenery centerpieces can be anything you choose around the house. Put a block of oasis, soaked overnight in water, in the container to keep your arrangement fresh and green. This will allow your arrangement to last longer in the house without drying out.
Most important to remember is to keep the greenery misted every few days, keep wreaths and arrangements out of direct sunlight, and never use a lit candle near the greenery. Some berries are poisonous, such as the red berries on a holly stem, bittersweet, and the pearly white berries of mistletoe. So keep these branches away from children and pets.
For more details about using fresh greenery in your home, see go.osu.edu/freshgreenery.