Former Boardman teacher receives jail time for sexual battery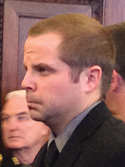 ---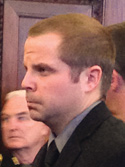 Photo
By Kalea Hall
Youngstown
The cries of the defendant's family could be heard throughout Judge Lou D'Apolito's courtroom when Joseph Cleghorn, a former English teacher at Boardman High School, was placed in handcuffs.
Quiet cheers from the victim's family also were heard.
Cleghorn will spend six months in jail and a three-year term of probation for sexual battery of a former student.
"I am very pleased," the victim said. "Throughout the whole time it didn't seem like it would be in our favor, but then it turned out to be in our favor."
Cleghorn, 35, of Boardman was sentenced Wednesday for sexual battery. In addition to probation and jail time, he will also have to register as a sex offender for the next 10 years. His teaching license also was revoked.
"You have an individual who will never teach again," Cleghorn's Atty. Ron Yarwood said to the court before the sentencing. "We have a person who lost his job, lost his honor and who was publicly humiliated."
Yarwood asked the judge to consider the responsibility his client took for the crime and asked the judge to consider a sentence without jail time.
"I've let a lot of people down," Cleghorn said at the sentencing. "I've let my family down, my profession and the victim. I would like to apologize publicly."
The recommended sentencing for the charge is probation with no jail time. Judge D'Apolito said in court he reviewed letters from both the victim and her mother as well as numerous letters from Cleghorn's supporters.
"I do believe it is important for society to understand that we have to protect children," Judge D'Apolito said. "I do believe letting you walk out of this courtroom will not do that."
Cleghorn pleaded guilty in September to a bill of information for sexual battery, a third-degree felony, accused of having a sexual relationship with a student from 2007 until 2009. The victim, who is now 22, was 16 when the relationship began.
She decided to come forward after she had a son in January and wanted to seek justice for events she realized were wrong.
"I didn't want to keep him in the school system and able to do this to another young person. And, it also sends a message to other teachers that this isn't OK," the victim said.
The victim did not feel Cleghorn was truly remorseful for his actions. Her mother felt his statement was just a show.
"It has been a very difficult process for her," the victim's mother said. "We do feel justice was served today."