Creche Crawl focuses on 'Keeping Christ in Christmas'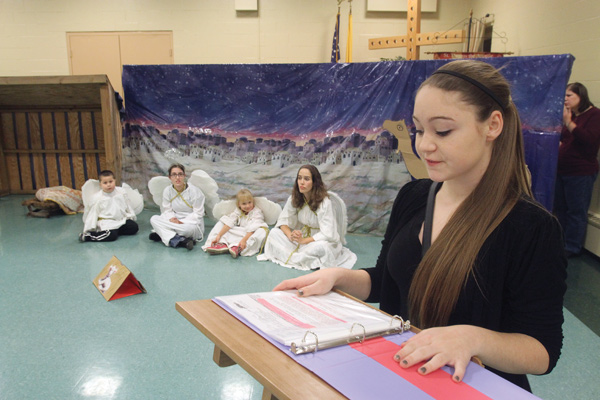 ---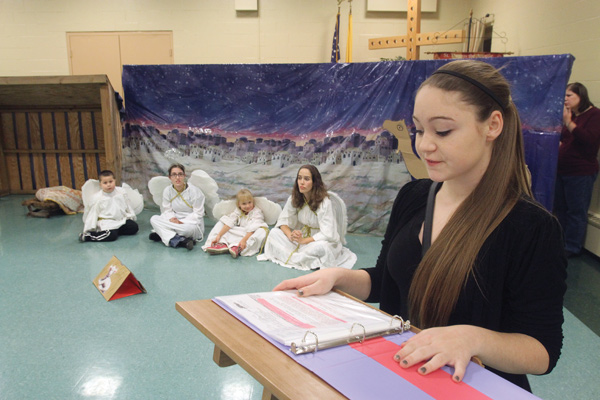 Photo
Kayliegh Crumb, 16, is the narrator for the Christmas pageant at the parish as "angels" listen to the story of the first Christmas.
Event focuses on keeping Christ in Christmas
By LINDA M. LINONIS
VIENNA
A two-day event this weekend at St. Thomas the Apostle Parish serves as a seasonal community outreach.
The Rev. Frank Zanni, pastor, said the theme, "Keeping Christ in Christmas," is at the forefront. The events provide a forum to evangelize — that is, share — the news about Jesus.
"We hear about Black Friday, Cyber Monday and Small Business Saturday, but Christmas is more than shopping," he said. "This brings the focus back to what it's about ... Christ's birth. That is the reason for the season."
Virginia Crumb, coordinator of religious education at the parish, said the parish also has sponsored other community-outreach events such as trunk or treat, Easter egg hunt and Lenten lunches. Crumb supervises religious-education programs and helps plan parish events. She's assisted by Emily Viga and Carol Roscoe.
For the Creche Crawl, parish members and community residents have been invited to share their Nativity sets. At the first Creche Crawl in 2012, some 100 Nativity sets were showcased. Father Zanni described the event as "Christian interfaith" because everyone is welcome.
Nativity scenes will be displayed in the parish hall this weekend. Saturday will include the display of Nativities, refreshments and a lessons and carols prayer service. Sunday will feature a Christmas pageant at 7 p.m. preceded by the Nativity display and refreshments.
Father Zanni said creche is another word for Nativity. Crumb said the crawl is "a slow walk" around the display of nativities.
The display features two Nativity sets from the churches that merged to form St. Thomas in October 2010. The Nativity scene from St. Bernadette Church in Masury features statues only; the original Nativity of St. Vincent de Paul Church in Vienna includes a manger along with figures.
Last year's event attracted about 100 people each night. "It was a nice turnout," Crumb said, adding she's hoping for more this year.
The Nativities are set up around the perimeter of the parish hall, where the Christmas pageant will be presented. They further reinforce the meaning of the season and the theme of the pageant.
About 25 children and adults are in the 30-minute production, which relates the story of Christ's birth, the first Christmas.
The pageant is interactive in that the audience is invited to join in singing of carols including "O Little Town of Bethlehem," "Away in a Manger," "Hark the Herald Angels," "Joy to the World," "We Three Kings" and "We Wish You a Merry Christmas." Church organist Shirley Sarko will provide accompaniment.
Father Zanni said the Creche Crawl "provides an opportunity to calm down" during this busy season and "take time for the Lord."