Fundraising events are planned for Akron Children's Hospital.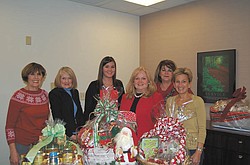 Photo
SPECIAL TO THE VINDICATOR Two fundraisers are scheduled to benefit Akron Children's Hospital Mahoning Valley: Breakfast with Santa and Holiday Hopes and Wishes, a luncheon. Some of the Kids' Crew committee members and chairwomen preparing for the two events are, from left, Julie Costas, committee member; Betty Cmil, co-chairwoman of the breakfast committee; Allison Engstrom and JoAnn Stock, committee members; Debbie Shattuck, co-chairwoman of the breakfast committee; and Kathy Dwinnells, co-chairwoman of the luncheon committee.
Staff report
BOARDMAN
The Kids' Crew of Akron Children's Hospital Mahoning Valley is planning two holiday events to benefit the hospital's special care nursery and the neonatal intensive care unit.
Breakfast with Santa will take place from 9 to 11 a.m. Saturday at Antone's Banquet Centre, 8578 Market St. It will feature a breakfast buffet, free photos with Santa, holiday craft and coloring stations, face painting, caroling, dancing, story time and more.
Santa will be welcomed by mascots and Aut Mori Grotto clowns, the Chick-Fil-A cow, Sir C.C. from the Cleveland Cavaliers, Capt. McFinn and Coral Rose from the Eastwood Mall, Scrappy from Mahoning Valley Scrappers, Sparky from the Youngstown Phantoms, Pete and Penny from Youngstown State University, Coop from Quaker Steak and Lube, Pete Za Hut from Pizza Hut, Pozzi from the NBA League Canton Charge and dancers from the Judy Conti Dance Studio.
Each child will receive a gift from Santa and a bag of goodies. The cost is $20 for adults and $10 for children 10 and under.
Major sponsors are Bob & Chuck Eddy Chrysler Dodge Jeep, Comprehensive Logistics, Clear Channel Youngstown, Hill Barth & King, Making Kids Count and PNC Bank.
Members of the Breakfast with Santa committee are Betty Cmil and Debbie Shattuck, co-chairwomen; and Kids' Crew members Janna Coffin, Julie Costas, Roseann Cullen, Dennis Dively, Roxy Gurlea, Donna Hayat, Gayle Kelly, Jenny Kennedy, Beverly Marinelli, Loretta Uroseva and Pattie Welsh.
The second event, the fifth annual Holiday Hopes and Wishes luncheon, will be Dec. 13 at Mr. Anthony's. A social and shopping will begin at 10 a.m., and lunch will be served at 11:30.
The cost is $35 per person. Corporate sponsorship packages are available.
This event includes a basket raffle, silent auction, holiday bake shop and a grand raffle for an Apple Ipad 2, a Samsung 32-inch flat screen TV or a Kindle Fire.
Reservations are required for both events. Call 330-746-9122.
Luncheon committee members are Donna Hayat and Kathy Dwinnells, co-chairwomen; Kym Baker; Diane Balog; Susan Berny; Kathy Brauer; Donna Chiarelli; Cmil; Costas; Georgia D'Andrea; Heather Davis; Kathy Gough; Gurlea; Paula Jakubek; Gayle Kelly; Marinelli; Margaret Nigro; Linda Lee Siegle; Katie Solvesky; Uroseva; and Amanda Watanakunakorn.
Corporate sponsors as of Dec. 2 are Belmont Pines Hospital, Clear Channel Youngstown, The DeBartolo Corp., Handel's Ice Cream, Homecare with Heart, Marcus Thomas, Merrill Lynch-The Jones Group, R.C. and Sons Lawn & Landscape and the Simon Family.
Membership in Kids' Crew is open to all those 18 and older. Dues are $15 and are renewable by Jan. 31 of each year. Participation is encouraged at quarterly general membership meetings and members are to help with a minimum of one hospital sponsored fundraising event or project and its subcommittee. Kids' Crew members receive invitations to all Akron Children's Hospital events, quarterly Children's Progress newsletters and regular Kids' Crew updates. For information call the number above.