Published: Wed, December 4, 2013 @ 5:10 p.m.
Mill Creek MetroParks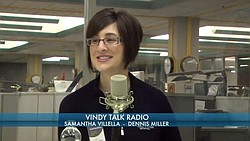 Video Set
Vindy Radio was on the air with Louie Free from 8 a.m. to noon Dec. 5.
At 10 a.m., Dennis Miller and Samantha Villella of the Mill Creek MetroParks visited to discuss their new logo and website, explain the intricacies of golf to Louie b. Free, and talk about their new fiscal plan and community events for the coming year.
Go to vindy.com/radio to listen to the show live, or vindy.com/mobile/vindy-radio to listen from your smartphone.
Click here to listen to the show. Follow us on twitter @vindyradio for live tweets from the show and beyond.
Vindy Talk Radio Studio: 330-333-4454