Georgia transplant returns to his roots at Mooney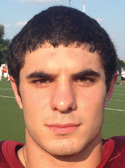 Photo
Mooney linebacker left Georgia to return 'home'
YOUNGSTOWN
Growing up in a northern suburb of Atlanta. Cardinal Mooney senior Joey Tabachino knew he had Youngstown roots.
His father, Robert, graduated from Chaney High School and played football at the University of Michigan. Tabachino's grandfather, Tony, starred at Rayen High way before that.
Joey had Ohio blood in him, yet he was living in the heart of the south.
It was there, living with his father, where he began playing sports. In 2012, Tabachino was one of the state's top wrestlers in the 170-pound weight division.
But his heart wasn't in the south and over the summer he decided to move up north to live with his mother. What was Georgia's loss was Ohio's gain — more specifically Cardinal Mooney's.
"I fit in better with the guys up here than I did in Georgia," Tabachino said. "It's a tougher atmosphere up here and I love it."
His toughness, and skills, have placed him at the forefront of a Cardinals defense that's one win away from another state title.
But for Tabachino, the feeling is all new.
"It's been wonderful and I owe [everyone] a lot too for sticking by my side through the whole process," he said.
Changing school districts can be difficult for teenagers. Moving between junior and senior year must be even harder.
However Tabachino said the transition wasn't as difficult as he thought it would be and he can thank the "Mooney Family" for that.
"They were very welcoming and it was very easy to transition," he said. "The coaches and players all treated me like I had been here for the past four years."
Cardinals coach P.J. Fecko is a Youngstown native and knows what the ideal mold for a linebacker in this area is.
He says Tabachino is just that.
"He's a hard-nosed, aggressive player — a very intelligent player — and a very calculated player," Fecko said. "It's been a perfect fit. He's a typical Youngstown kid that plays with a lot of intensity and desire and plays with a tremendous amount of pride. He's someone that fits in well and is a big part of this team."
Tabachino plays alongside Jordan Jones at linebacker for the Cardinals. Although he feels like he's developed a strong bond with all of his teammates by now, he and Jones have something more.
"Me and Jordan really clicked," Tabachino said. "We're kind of like the same type of person and we just really hit it off."
In only a few months, Tabachino has not only adjusted to life in a new state and a new school, but he's excelled there.
One person who's not surprised?
His coach.
"Joe's an outstanding person first," Fecko said. "He's a model student-athlete, somebody who's a very hard worker and someone who's had success in other sports outside football."
Whether his wrestling days are behind him or not, Tabachino said he was going to wait and see how football went.
As Cardinal Mooney continues to prepare this week for its state championship game against Clarksville Clinton-Massie on Friday night, it's safe to say football's gone pretty well for Tabachino and the rest of the Cardinals.
"I'm just extremely honored to be a part of it," Tabachino said.