November sales pull Cruze out of skid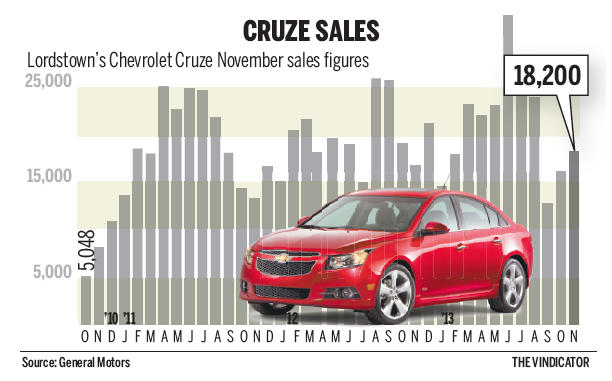 ---
Sales of the Chevrolet Cruze increased by 8.3 percent last month, snapping out of a three-month slide and marking the best November sales ever for the Lordstown-built compact car.
General Motors on Tuesday said Cruze sales hit 18,200 units last month, up from 16,807 in 2012.
Tuesday's positive report broke a streak of declining year-over-year sales that dates back to August. In September, Cruze sales dropped 50 percent from that time last year, signaling an all-time low in the vehicle's sales.
But the Cruze has had a good year of sales overall, and it continues to be Chevrolet's second-best selling model behind the Silverado pickup.
"On the whole, it's been a solid year for the Cruze," said Tim Fleming, an analyst at Kelley Blue Book.
So far this year, sales of the Cruze have improved at a rate of 6.3 percent over last year, hitting 230,062 units in a segment that has been one of the auto industry's most competitive.
"Compact cars are one of the most competitive segments," Fleming said. "It's really not an easy segment to compete in."
But Michele Krebs, senior analyst for Edmunds.com, said the segment was down this month, with Cruze competitors the Honda Civic and Toyota Corolla both posting decreased sales.
The Cruze also is facing pressures from within the Chevrolet line, with sales of the redesigned 2014 Malibu surging again this month, up nearly 41 percent from a year ago.
"The Cruze is the oldest car in Chevy's line. So, the Cruze is holding its own," she said.
November continued a strong year for trucks and sport utility vehicles. Analysts said low gas prices, increased construction and seasonality combined to produce strong sales gains for large vehicles over last year.
Sales of the Silverado spiked 12 percent compared with last November. It reached 437,821 units for the year, a 19 percent increase compared with 2012.
GM sold 145,089 Chevrolet models last month, up 12.6 percent from last year, and sales across GM's brands rose 13.7 percent to 212,060 units in November.
Retail deliveries of the Cruze were up 39 percent, consistent with a larger pattern that has trended away from fleet deliveries and more toward retail sales.
GM's overall retail sales were up 19 percent, while fleet deliveries — which include sales to rental companies, cities and businesses — slid by 3 percent.
"The automaker is increasing overall sales even as its fleet sales drop, confirming GM's success with consumers while improving its profitability," Karl Brauer, senior analyst for Kelley Blue Book, wrote in an email.
Helping GM's gains in retail sales, he said, was the company's decision to roll out new models at a time when the average car is aging.
"GM's rapid release of new models couldn't have been better timed. With the average car on the road more than 11 years old, consumers are ready for something new, and GM is offering the newest product lineup of any manufacturer," he said, citing the new Silverado and Sierra models.
Alec Gutierrez, senior analyst for Kelley Blue Book, said transaction prices have stayed the same for GM, likely the result of strong competition across the board.
"Transactions prices have held steady for GM, perhaps a bit disappointing considering the amount of new product they have available for sale, but not totally surprising given the intensely competitive nature of the current sales environment," he wrote in a statement.
Analysts said pent-up demand and new models have propelled the auto industry to a strong year. It is still on pace to top a predicted 15.6 million units in 2013, and analysts are projecting the industry to exceed 16.3 units next year for the first time since 2007.
"The auto industry has far outpaced economic gains," Fleming said. "That's a solid improvement."