Girard's O'Hara cool in clutch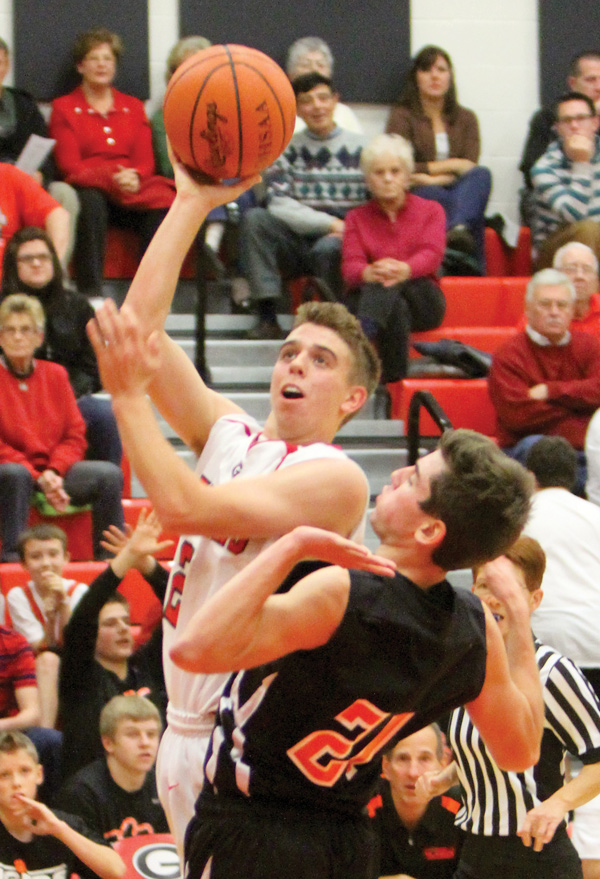 ---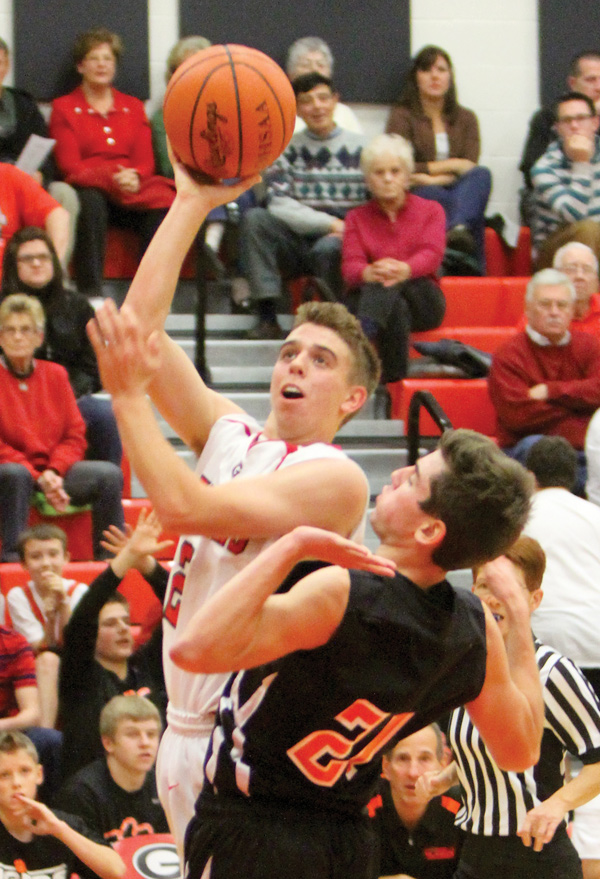 Photo
Girard's Jim Standohar shoots against Howland's Evan Steele during their game Tuesday in Girard. The Indians defeated the Tigers, 65-59.
By Tom Williams
GIRARD
After watching Howland burn his team for 28 points in the third quarter, Girard junior Dylan O'Hara admitted there was frustration on his bench,
It didn't last long. After the Indians' Chaston Williams opened the fourth quarter with a basket, O'Hara sank a 3-pointer to put Girard back in front.
Down the stretch, O'Hara contributed a basket and three free throws as Girard pulled away for Tuesday's 65-59 victory.
The Tigers (0-1) outscored the Indians 28-23 in the third quarter, wiping out Girard's two-point halftime lead.
"We were getting open shots all game," said O'Hara, explaining that head coach Craig Hannon's message during the quarter break "was to lock down on defense and our offense would take care of itself."
The Indians (1-1) followed the plan, limiting the Tigers to one basket and four free throws in the final eight minutes.
O'Hara felt confident when he let loose his biggest basket of the game.
"I knew it was going in," said O'Hara, who led the Indians with 23 points.
"It felt good," he said of regaining the lead.
Howland coach Bill Bogan wasn't surprised that O'Hara came through in the clutch.
"He's the son of a long-time coach," said Bogan, referring to Bryan O'Hara. "He knows the game very well, shoots the ball extremely well.
"He's a tough, gritty basketball player that any other coach would love to have on their team."
Hannon said O'Hara's experience has made him a key player.
"He played a ton of minutes for us last year, so this isn't a surprise," Hannon said. "He's a hard worker and hard-working kids reap the benefits."
After O'Hara's 3-pointer, Howland's Julian Lanier made a basket to tie the game at 55-55. Girard's Tyler Kilbourne responded with a basket from underneath to put the Indians ahead to stay.
Hannon said he didn't mind the quick tempo after halftime.
"We want to play fast and I think they do, too," Hannon said. "What I'm not happy about with that third quarter is that we gave up 28 points.
"That's just not what we're trying to accomplish," Hannon said. "Both teams were trying to play fast — that's when it's going to get helter-skelter."
After a close opening quarter, Girard's Jim Standohar sank two 3-pointers for a 20-11 lead. The Tigers came to life, scoring 11 of the next 15 points to climb to within two. Reece Bogan and Tommy Carnifax each had two baskets and Connor Antinone hit a 3-pointer to keep the Indians from running away.
"We just stressed body and ball movement, the staple of our offense," Bill Bogan said of the halftime speech. "When we do that, we keep good spacing on the floor and guys get makeable shots."
Carnifax made four baskets in the third quarter while Lanier hit for two 3-pointers.
"We got a little lazy on defense and in transition," O'Hara said.
Momentum swung back to the Indians as the Tigers didn't score again until 4:20 was remaining.
"In the fourth quarter, we became a little bit selfish, showed some traits of a young team," Bogan said. "We quit executing and Girard took advantage."
Standohar finished with 13 points while Evan Standohar had nine.
For the Tigers, Reece Bogan and Carnifax each scored 12 points while Lanier netted 11.
Bill Bogan said the difference between the final two quarters is a teaching moment.
"We take that and say, 'this is where we were good, this is where we weren't,' " Bogan said. "We're a young team but I've got three who logged starter-type minutes as freshmen last year. We should be able to do a better job."