Midlothian robbery suspect crashes vehicle into telephone pole
---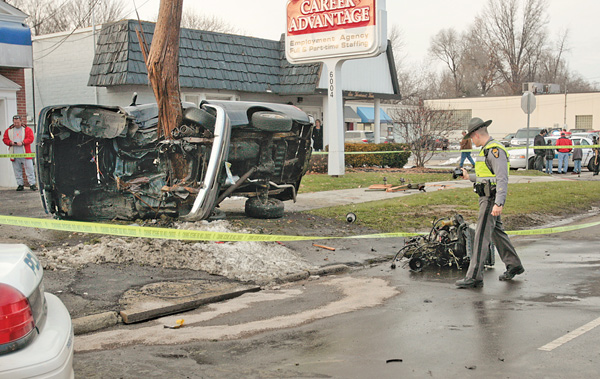 Photo
A chase for a man who robbed a pizza shop with a knife ended with the accused burglar wrapping his truck around a telephone pole on Market Street just past Withers Drive in Boardman. The Ohio State Highway Patrol investigated the Tuesday afternoon incident.
Staff report
BOARDMAN
It was like a scene from a movie, witness, Maureen Sebastian said after she watched a suspected thief hit a pole on Market Street while being chased by police.
Sebastian heard a car speeding down Market Street as she decorated the store front of Pat's Uniforms on Market.
"I actually saw the truck hit the pole," Sebastian said. "I didn't expect him to be alive."
Matthew Koziorynsky, 18, no address available, was charged with aggravated robbery, failure to comply with an order or signal of a police office and fleeing and eluding.
He crashed his Ford Ranger into the telephone pole on Market Street while fleeing from police shortly after 3 p.m. Tuesday.
The truck wrapped around the pole, its engine and downed telephone wires lying in Market Street.
Youngstown and Boardman police and Boardman firefighters came to the scene, along with Ohio Edison and the Ohio State Highway Patrol.
Youngstown police chased Koziorynsky across the South Side about 2:45 p.m. after he would not pull over.
A robbery had been reported at Marco's Pizza on Midlothian Boulevard, and the truck Koziorynsky was driving matched the description of the one used in the crime.
When a Youngstown officer tried to pull the truck over, it sped away, police said.
The officer chased the truck west on Midlothian past South Avenue to Market Street, where it turned south into Boardman before crashing in the 6000 block of Market Street, striking the utility pole.
The Jaws of Life were used to get Koziorynsky out of the vehicle, who was yelling and screaming when he got out, witnesses said.
The man was treated by paramedics and transported to St. Elizabeth Health Center. He injuries aren't believed to be life-threatening.
Police found about $260 in cash and coins under the car and on Koziorynsky. They also found a knife under the car.
Jack Demaine did not witness the accident, but when the power went off in his hobby shop on Market Street, he looked outside and saw the truck turned over and wrapped around the telephone pole.
Demaine also was thankful the pole stopped the truck from going any farther and slamming into Amer's Hobby Shop, which lost power because of the crash, along with other businesses.
"He could have been in front of my building," Demaine said.
The OSHP's Canfield Post is investigating the crash.
More like this from vindy.com