Basketball court dedicated to late Canfield teacher, coach Ken Reel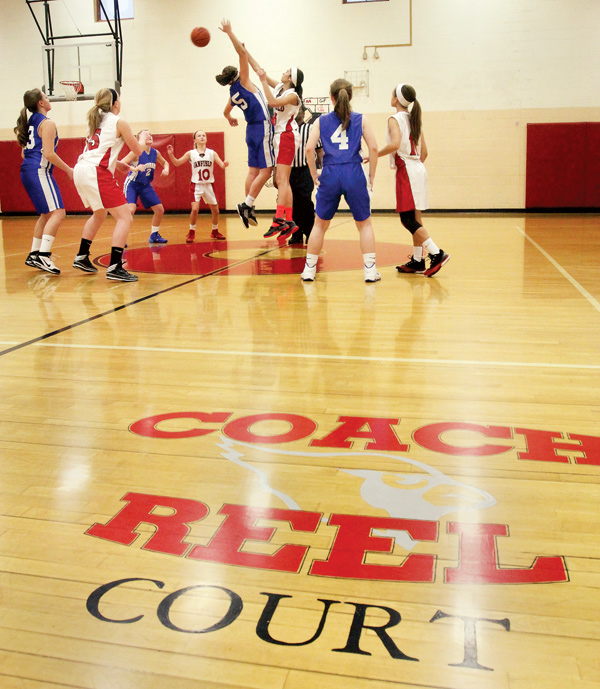 ---
By KALEA HALL
khall@vindy.com
CANFIELD
Coach Reel Court

Video
The basketball court at Canfield Middle School was dedicated to longtime teacher and coach Ken Reel.
Tears filled Sabrina Eaton's eyes as she spoke about her mentor and friend, the late Ken Reel.
A memorial dedicated to Reel is now painted on the same basketball court where he coached eighth-grade girls basketball.
"I know he is smiling right now with the best seat on the court," said Matthew Reel, Ken's son.
Students, staff, administrators and Reel's friends and family gathered Tuesday afternoon to honor and remember a man considered a role model for students both as a coach and a teacher.
A red "Coach Reel Court" and gray cardinal are forever imprinted on the gymnasium floor at Canfield Village Middle School, just as Reel, himself, imprinted life lessons on his students.
"They won't remember the score, but they will remember how hard you played," Eaton said was one of Reel's favorite sayings to the crowd before the Canfield eighth-grade girls took on Hubbard.
Reel died in June at age 67 after battling T-cell lymphoma for more than a year. He taught history for Canfield schools from 1969 until he retired in 2012. He also coached girls basketball for more than 20 years.
He was known for making history come alive for his students, and for his love of Abraham Lincoln. Members of the crowd wore their "Team Reel" shirts with his favorite quote, "Disperse ye rebels," from the American Revolution on the back. Reel would say the quote if he needed to break up a crowd of students in the hallway at the middle school.
"He loved Canfield girls basketball, schools and the Canfield community," Matthew said of his father.
Matthew, also a teacher for Canfield schools and a high school basketball coach; his sister, Amy Nash; and his mother, Mary Ann, were given a wooden plaque made from recycled pieces of the middle school gymnasium floor at the ceremony honoring Reel.
Eaton was one of Reel's students and worked with him as a teacher at the middle school. She described him as someone armed with a magical power to instill in each of his students not just history lessons or basketball skills, but integrity, respect and kindness. He taught his students your character is who you really are.
"[His students] felt like they were a part of a family — his family," Eaton said.
Crissy Gelonese, a senior at Canfield and a member of the basketball team, said her former coach was the reason she kept on playing the sport.
"He taught me more about being a good person," Crissy said. "He mainly focused on [teaching how] to be a young lady and to be respectful."
Savannah Barko, a junior at Canfield and also a basketball player, saw Reel as a role model and mentor.
"I felt like I knew him more than I actually did," she said.